Alfred James & Co Solicitors LLP Info

Alfred James & Co Solicitors LLP - Croydon
An experienced firm in South Croydon with a wide range of legal knowledge in various areas of law such as Conveyancing, Immigration and Personal Injury. Accredited for the SRA's Conveyancing Quality Scheme (CQS) and also the Specialist Quality Mark (SQM). Alfred James & Co pride themselves in being friendly, professional and reliable. Legal Aid available where applicable for assistance to those with Housing, Community Care & Debt cases who are on a low income.

406a Brighton Road, South Croydon
,
Croydon, Greater London
,
CR2 6AN

http://www.alfred-james.com

solicitors@alfred-james.com

020 8681 4627

Alfred James & Co LLP Solicitors in Croydon, Surrey
AJ&Co have been working with 1to1Legal on and off since 2012. That shows they have incredible good taste in business partnerships, but what do they offer their clients?

From the main page, right the way through all the case types and contact pages - the Alfred James & Co website is full of language that indicates a considerate and welcoming firm. For example, the first line states they offer a "compassionate approach towards our clients who are often dealing with some of the most difficult situations life can serve up".

They do this primarily for Conveyancing, Divorce, Family Law, Employment Law, Immigration Law, Personal Injury Law, Civil Disputes & Litigation but there are references to them helping businesses as well - so you can always phone and ask whether they will handle your issue. Often, a firm will only list the most commonly known case titles in the service list of their site.

However, this firm uses a huge range of phrases to describe similar case types. For example: relationship breakdowns and property settlements (Divorce), death of a loved one (Wills), buying or selling a home (Conveyancing), and so on. Same type of case, different description. It is not your job to understand the jargon or know what type of case you have, though.

"As a small team of dedicated professionals we aim to provide a friendly, family atmosphere with a reputation for timely, personalised service." - now you may think that this is merely a bunch of words chosen because they sound good. However, each of these are a valid point to consider when choosing a law firm. We have experienced firsthand the problems of being with a huge law firm and being lost/inconsequencial to them. Although that doesn't mean every firm with more than 10 staff members has lost that personal touch! The reputation for a "timely" service is also important. The most common complaint we see registered against solicitors in the Legal Ombudsman's database, is delayed service. Delays cost money and even entire cases. Solicitors that fail to execute a case in a timely fashion can be sued themselves because once a case is out of time - that's often it. Time up. So don't assume that all law firms always punctually show up at court or file documents well ahead of time - because they simply don't. A firm that recognises Time as an important factor is a good sign.

One final unusual statement from the site we spotted was way down at the bottom. "Alfred James & Co Solicitors LLP has an ethnic diverse work force and will be able to assist you regardless of your ethnicity." Sure enough, whilst the firm has a typical law firm name with the surnames of the owners/partners ... well, actually - that's not true. A quick search of the staff page shows no solicitor on staff called Alfred James, or even two solicitors with Alfred and/or James in their surnames. The two partners are called Adedeji Sijuwade and Rachel Fleming-Campbell. An easily assumption-filled combination of surnames, genders, and backgrounds to allay the fears of most potential clients. Enough to get them on the phone at any rate.

What kind of cases do they cover?

Croydon Conveyancing - buying or selling a residential or commercial property is a significant decision for most people. They assist with preparation of contracts, purchase of land, contract review, property settlements, commercial/retail leases, auctions, finance, home owners grants, mortgages, refinancing, property deposit bonds, etc. for private clients as well as property developers, real estate agents, banks, mortgage brokers, surveyors and so on. They are licensed conveyancers.

Divorce & Family Law for Croydon - marriage and divorce law, legal separations, annulments, spouse maintenance, domestic violence, mediation, etc. as well as specific children's matters such as child support, custody, visitation, parental rights (e.g. fathers and grandparents), guardianship, adoption and so on. We're not quite sure what the "Keywords Divorce Family Surrey London" means at the bottom of the information page for this type of law on the firm's site. Maybe local people will understand the reference?

Croydon Employment Lawyers - unfair dismissal, constructive dismissal, harassment, bullying at work and so on. This is the first place we see fees mentioned, but only to say that their fees are 'attractive'.

Immigration Law - temporary or permanent residency, extension of visas, family members, overseas employees, appeal refused visas, detention centres, human rights law, investors visas, citizenship, etc.

Now up to this point, you're probably thinking - 'hey, whoever is writing this seems to quite like the firm and thinks they are considering the things important to the client'. Well, unfortunately the site takes a bad turn for personal injury. Sadly, that is quite common too. I refer of course to the huge list of potential compensation payouts for various body parts that have been injured. We've covered this in depth in other places of the site - however we've rarely seen a list quite so long on an actual solicitor's website. Usually, this sort of carrot dangling is the domain of claims management companies looking to get people's details and sell them on to law firms.

For example, they state "Serious fractures of one or both arms: £9,000 to £29,000". That information is not helpful in any way. The gap in payments is huge. No layman will know what constitutes a serious fracture over a non-serious fracture. And it is dealing with the vast difference between having to live with one arm broken vs two arms. There is just no viable reason we can see for having this on the site other than the aforementioned carrot-dangling. "Severe back injuries: up to £14,000" If you call any solicitor and ask them if severe back injuries are capped at £14,000 - they will ask you where you heard such nonsense.

Can Alfred James & Co redeem themselves after this? Well, yes. We have to give them great credit for being a firm still willing to handle Civil Disputes & Litigation

Civil litigation or dispute resolution allows people to use mediation or the court system to obtain compensation for things outside of injuries. Such as breach of contract, defamation, and so on. Things that are not a criminal matter. Disputes between neighbours, customers, businesses, landlords, tenants, employees, employers, creditors, debtors, etc.

This area of law is often the least profitable for solicitors so kudos should always be thrown about for those firms that do work in it. However, don't expect the kind of experience you've seen with the scrappy American law firms of TV (e.g. "The Practice"). The UK legal system is exactly at you'd imagine. Bureaucratic and slow.

Legal Aid - again something that is becoming more rare amongst law firms. Legal Aid is hard to get and even harder to find a solicitor that will take your case on under such conditions. It is not something you have to verify yourself before ringing. Alfred James & Co offer to check eligibility for you.

We did a quick check on the variants, and www.alfredjames.com is a musician. www.alfred-james.co.uk has no content but is owned by a different firm. www.alfredjames.co.uk doesn't seem to be owned by anyone. So once you are sure you are on the right website, bookmark it just in case you have a memory/finger slip when trying to get back there.

Well, that is certainly the longest firm review I have undertaken for ... well, ever.

General Notes: We haven't looked in depth at their recruitment program so are unaware of any job vacancies available. If you do want to build a career with Alfred James & Co Solicitors LLP, then it is best to visit their site and try to find the correct phone/email contact details set aside for such if they exist. (Emailing a CV to their reception looks lazy.) Due to the complexities of case funding and the constant government cuts, it is always best to ask about things such as Legal Aid up front. Lastly, each law firm should state a registration number with their respective Law Society and/or their SRA number. It's usually at the bottom of every page. - www.alfred-james.com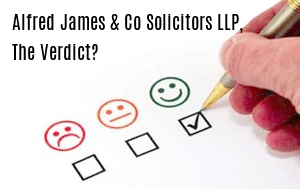 This
Alfred James & Co Solicitors LLP
article is rated
4.9 /
5
based on 35 reviews. †
Found this article helpful? Rate it:

---
Other Law Firms like Alfred James & Co Solicitors LLP:
» Greg Almond Solicitors Manchester - However ...
» Oonagh Burns and Emerald Law Solicitors - It is difficult to tell whether a firm has history ...
» Accident Claims Scotland - The main case types they cover ...
» Proddow Mackay Solicitors - There is usually a disclaimer somewhere stating that the numbers quoted by the calculator may have zero to do with your final settlement figure ...
» Ropewalk Chambers Barristers - These days ...
» Jackson and Canter now Jackson and Lees - Of them all ...
» MorganCarter Solicitors - phrases such as "we pride ourselves on putting our clients first" /i ...
» Debt Solve UK - That's also why we've reached out to bring on board some non-law-firm partners to cover things that you may not need a solicitor for at all ...
» Alison Ashworth Solicitors - They promise round the clock access to the solicitor dealing with your case ...
» Taylor Bracewell Doncaster - They cover six main areas of case type ...
» Bromets Jackson Heath LLP - However ...
» Thompsons Solicitors Glasgow - Obviously ...
» Mason Baggott and Garton Solicitors - It is important to note though ...
» KTPSolicitors - They state that all the firm's partners and most of their staff grew up in the local areas such as Pontypridd and Rhondda ...



Search for Solicitors
Near You:
Recommended Firms:
Firms with
Most Complaints:
This "Top 10 Worst" list is based on the Legal Ombudsman's complaints database, adjusted to factor in firm size and other relevant information:

» Mr Tariq Rehman of Kings Court Chambers
» Allan Rutherford Ltd
» Parabis Law LLP (aka Cogent Law or Plexus Law)
» Allerton Kaye
» DAS Law Limited
» Mr Wray of Kings Court Chambers
» Minster Law Ltd
» Handley Brown LLP
» Lyons Davidson Ltd
» Keppe & Partners

» Arc Property Solicitors Llp (has been closed)
» Abode Solicitors Limited (has been closed)
» Robert Meaton & Co (has been closed)
» Swinburne & Jackson Llp (has been closed)

The Legal Ombudsman's complaints database will tell you what type of cases were complained about and whether any compensation was ordered. View it here »
Related News:
Why Are Not Posts On Law Firm Facebook Pages Getting Seen?
: And. frankly. that is where most attorneys and law firms fall down. Criminal are searching for a law firm in a smaller geographic place using terms like Orange County or LA - 49.3K searches. Nowadays. the Internet causes ...

How A Tacoma Bankruptcy Law Business Can Help Stop Creditors Law Offices
: Online video is becoming a hot advertising medium. . Many lawyers do not get new clients and files because they do not do enough business development tasks. or they waste time on the erroneous actions. or they do not get fa ...

The Best Way To Catch New Clients? Locate Their Associations And Get Actively Involved
: Underneath you will find law firms and their legal practices for sale available. For instance. you might inquire what the law like about your social media content and what they are not so keen on. The primary group that y ...

The Legal Loophole That Could Endanger Your Mortgage Modification
: The Attorney is a British magazine for legal professionals and its own web site has some good information on law firms that are various. They provide a UK extensive legal sales service and will carry out marketing. practi ...

>> SEO for Law Firms? <<