Furse Sanders Info

Furse Sanders - London
From their office in Cricklewood Broadway, Furse Sanders are a High Street firm working one-to-one with people from all walks of life. They pride themselves on providing a personal service to ensure clients feel in safe hands. Parking is available to the rear of the office with transport links from Willesden Green/Kilburn stations.

Bank House, 59-61 Cricklewood Broadway
,
London, Greater London
,
NW2 3JX

http://www.fursesanders.co.uk

info@furselaw.co.uk

0203 728 6700

Furse Sanders Ltd in London, Helston, St Ives +more
I've been writing review articles for nearly 20 years now. It's something I started doing before joining the legal industry and continually telling people my opinion of things is just "how I roll". The reason for the quotation marks there, is that if you factor in my starting in the industry after the age of 20 then add on the fact I said I've worked in it for nearly 20 years - I must be therefore be at least 40 years old. (Sure enough, big four-oh was last year.) Therefore writing "how I roll" with the quotation marks indicates I'm aware of my age and how far removed I am from being able to say anything remotely cool.

The thinking process I've just described is usually how I end up forming an opinion about the firms I review. I look for the odd word or phrase here and there, put some numbers together, and dig around page 13 of the search engine results to try and find the information not stated on their front page.

Why is all that important? Because Furse Sanders is a heart-on-their-sleeves kind of firm. Not a firm that has a piece of text on their front page telling you they are a heart-on-their-sleeves kind of firm. But an actual heart-on-their-sleeves kind of firm where I didn't have to infer, uncover, or deduce anything.

They have 8 offices so can be considered a large operation, but you absolutely would not guess it from their website. The informality seems almost quirky but never unprofessional, and there is a complete lack of fabricated identity. For example:


"You may want to come to us because you are anxious about dealing with a solicitor even if you have used one before ... We want to you feel you have as much control as possible so we establish a frequency for regular updates, make sure you understand what happens next and what that may cost and how long it may take."
This is the kind of wording you would normally see in a section entitled
"We're great with old people!"
, where it usually ends up sounding patronising. However, this is general text from the firm's site about why you should use them. There's a lot of focus on the type of experience they want you to have.
That's not to say there isn't a great affinity for elderly clients within the firm. It's a theme running through their charity page which lists Admiral Nurses (dementia) and The Cinnamon Trust (helping elderly people with pets). They also have a memorial page to allow family members to post messages about Furse Sanders clients that have passed on, and they're members of an organisation called
Solicitors for the Elderly
(SFE), an:
"... independent, national organisation of lawyers, such as solicitors, barristers, and chartered legal executives who provide specialist legal advice for older and vulnerable people, their families and carers ... providing a forum in which legal people can increase their knowledge and tap into a pool of expertise to ensure they deliver high quality legal advice."
If you've already visited several firm's sites before coming to us, you'll probably have noticed that the 'Why Use Us?' pages on them usually consist of bullet-pointed hyperbole and a dictionary's worth of blue-sky-thinking catchphrases. Furse Sanders' on the other hand contains a personal story from the company's current owner about her history, why she bought the firm, and her vision of its future.
"I hated the way that many lawyers, particularly solicitors, looked down their noses at the people who were paying them. I wanted to have my staff treat people the way I do. That's partly why we don't tend to wear suits but smart casual clothing, that's what the clients tend to wear, that's what we mostly wear at home so why not also at the office?"
Sure enough, the firm's staff page is not a sea of black clothing. But none of these things stand out in a bad way and most would go un-noticed unless pointed out comparatively as we're doing here. Indeed my initial cursory flick through the website indicated just another typical law firm. The differences are there, but they're
not highlighted or simply for the sake of being different
such as switching chairs for beanbags or hugging at the end of every meeting. Far from it.
Furse Sanders Ltd have offices in Cullompton, Hayle, Helston, London, Penzance, South Molton, and St Ives - with the launch of their Looe office covered in the
local press
last year. They can handle Agriculture and Rural matters, Commercial Law, Family Law, Property, Wills, Probate, and Powers of Attorney with regular 9am-5pm opening hours and half day Saturdays.
They have an active Twitter feed that posts about regular industry news and changes, plus a Library section on the website with articles such as
"Take Care When Appointing a Non-Lawyer as Your Executor"
,
"Judge Sees Through Attempt to Hide Assets"
, and
"Libel by Internal Email"
.
You may find the name Furse Sanders & Taylor pop up here and there, often listed with the exact same head office address. There is no such firm any more though. There's not a lot of public information on the history but we did find out that when Philip Taylor & Co took over the firm after John Furse Sanders' retirement, the name was initially changed to Furse Sanders & Taylor. However Furse Sanders Ltd has been called that for at least the past six years and is currently owned by the managing director Maxine Barnes. Taylors Solicitors is a separate firm handling very different case types in nearby Braunton.
In summary: on the face of it Furse Sanders Ltd are a typical firm offering typical services, but atypically they have a very unique identity that seems genuine and 100% theirs. It stands out because they happen to be what other firms try to convince you they are - i.e.
a large firm with small firm customer values
.
"Come and get a different experience. One that you may not have had before when dealing with a law firm but always wanted."
A quick word on navigation. We link to official www.fursesanders.co.uk website with www.fursesanders.com currently blank. None of the hyphenated or usual 'furse and sanders' sort of errors are owned by anyone else either at the moment, and because the firm deals with property it is therefore advisable to bookmark the correct site once you're on it
just in case
General Notes: We haven't looked in depth at their recruitment program so are unaware of any job vacancies available. If you do want to build a career with Furse Sanders, then it is best to visit their site and try to find the correct phone/email contact details set aside for such if they exist. (Emailing a CV to their reception looks lazy.) Due to the complexities of case funding and the constant government cuts, it is always best to ask about things such as Legal Aid up front. Lastly, each law firm should state a registration number with their respective Law Society and/or their SRA number. It's usually at the bottom of every page. -
www.fursesanders.co.uk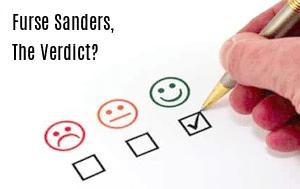 This
Furse Sanders
article is rated
4.4 /
5
based on 19 reviews. †
Found this article helpful? Rate it:

---
Other Law Firms like Furse Sanders:
» Starck Uberoi Solicitors - That probably doesn't help you with your decision on whether to use the firm for legal services ...
» Autologistic Solutions Limited - No bake sales for charity covered in the local newspaper ...
» Johnsons Solicitors Nottingham - If you skim through our other articles ...
» RSR Law Croydon - Timescale ...
» CSL Law Croydon - But even then it was one of those "Eh ...
» Hodge Jones and Allen Solicitors - The official address is www ...
» CFG Law - There aren't a lot of indications as to why this firm decided to be different ...
» Michael Jefferies Injury Lawyers @ Jefferies Solicitors Ltd - They point out that things such as depreciating value of the car ...
» Julia Brown Solicitor @ Family Legal Solicitors - Their ethos is that as a family solicitor they are there not only to provide legal advice ...
» Marcus Andreen Commercial Law - However ...
» Law in Cornwall Ltd - It may involve stress ...
» Joanna Connolly Solicitor Advocates - I recommend a phone call to confirm the ins and outs of that though ...
» Shaw Gibbs Business Insolvency LLP - Shaw Gibbs team of licensed insolvency practitioners and experts will try to find you amicable solutions to problems ...
» Parkview Solicitors & Higher Court Advocates - It is always helpful to talk to a firm that does not feel 'above' any particular case or client 'value' ...




Search for Solicitors
Near You:
Recommended Firms:
Firms with
Most Complaints:
This "Top 10 Worst" list is based on the Legal Ombudsman's complaints database, adjusted to factor in firm size and other relevant information:

» Mr Tariq Rehman of Kings Court Chambers
» Allan Rutherford Ltd
» Parabis Law LLP (aka Cogent Law or Plexus Law)
» Allerton Kaye
» DAS Law Limited
» Mr Wray of Kings Court Chambers
» Minster Law Ltd
» Handley Brown LLP
» Lyons Davidson Ltd
» Keppe & Partners

» Arc Property Solicitors Llp (has been closed)
» Abode Solicitors Limited (has been closed)
» Robert Meaton & Co (has been closed)
» Swinburne & Jackson Llp (has been closed)

The Legal Ombudsman's complaints database will tell you what type of cases were complained about and whether any compensation was ordered. View it here »
Related News:
Edwards Reactivates Law License, Speaking At Occasion
: To offer insight into where top law firms tend to recruit. U.S. News asked hiring partners to rate the schools based on a 5-point scale. with 5 being outstanding. 4 strong. 3 good. 2 adequate. and 1 marginal. You will hav ...

Publishing Via EReaders For BizDev? Wolters Kluwer The Intelligent Solutions Blog
: There's more to Google. The more efficient your marketing and business development efforts will soon be. the more clearly and narrowly you define your audience. The two are seeking business tools and services using terms ...

Why Are Not Posts On Law Firm Facebook Pages Getting Seen?
: They've arranged their advice in ways which allows you to target businesses with precision that was deep. Every one of the companies Evan received interviews with did not interview at his school. By creating an eBook. you've the o ...

KG&B Law Launches Latest Guidebook In the Small LawFirm' Law And Learning Guidebook Series '
: For instance. a company might hire a person who's bright. magnetic and articulate but can not get anything done. They find these London East End immigration law firms intriguing. They use the latest best practices to put ...

>> SEO for Law Firms? <<