RSR Law Ltd Info
Please note: we are no longer partnered with RSR Law Ltd so the information below may be out of date. You may try the stated web addresses manually elsewhere, but if you click on the link you will remain on this website. This page will be removed/replaced in due course. You can use the solicitor search function on the right to find an alternate firm in your area. Thank you.

RSR Law Ltd - Croydon
An experienced, trusted law firm with over 45 years of experience in Industrial Disease, Employment Law, Medial Negligence and Will Disputes. They offer many funding options from No Win No Fee to a fixed fee arrangement. All their initial advice is free, and there is no obligation to claim.

N/A
,
Croydon, Greater London
,
CR0 1PD

http://www.rsrlaw.co.uk

N/A

N/A

RSR Law Ltd in Croydon
When choosing firms for us to recommend potential clients to, there is a check list of items we go through such as location, case types, reputation, setup, and recommendations from peers. Sometimes however, we run into a firm during the course of our day-to-day dealings that simply piques our interest. In the case of RSR Law, it was things like publicly denouncing cold-calling and their cessation of personal injury claims handling that initially grabbed our attention.


"RSR Law is taking a stance against cold calling and does not and will never use cold calling (or text messaging) as a method to obtain any work. We are against cold calling in any form."
We couldn't agree more with the cold-calling thing and have similar statements on our own website. That along with the fact they switched their focus from the often-deemed-easier task of processing whiplash claims to dig into dismissal cases and contentious probate - meant we had to get in touch to see about getting them on board.

RSR Law Ltd state they are industry leading contentious probate solicitors with 8 out of 10 claims being dealt with utilising No Win, No Fee arrangements with free initial advice on all cases. As we've mentioned before in other articles - No Win, No Fee does not mean no fees at all and firms are not always clear about this on their websites, often mixing in other catchphrases such as "100% compensation" as well. On this occasion, there is actually a lot clarification of what is meant:


"All our initial advice to assess your case is free ... In some cases we may charge a small fee if further investigation is required, before a no win no fee agreement can be entered, (i.e. getting a copy of a will), however this will be discussed and agreed prior to any work being undertaken. If we believe there is a strong possibility of success we will offer No Win No Fee ... this means you pay no upfront costs and we only get paid only if you win your case. Other funding options are available, such as a fixed fee agreement, meaning you pay no unexpected costs. All will be explained prior to entering into any agreement."
The firm seem to enjoy writing lots of information with a regularly updated blog currently in the hundreds of posts. Most of it will probably only interest other industry professionals, but some pieces such as the case studies might help new clients get a better understanding of the processes and timescales involved. The use of acronyms isn't limited to the firm's own name though. We saw a couple of articles recommending people remember "F.A.C.T.S!" In one instance it stood for "Family. Advice. Contest. Timescale. Specialist Solicitor." with statements on how each relates to contesting a will. Then in the next it was "First Aid. Accident Book. Contact. Timescale. Specialist Solicitor = Success" relating to personal injuries. I'm guessing that when they did away with injury claims, it was time to overhaul the acronyms to? I have a hard enough time remembering the one for strokes. (It's F.A.S.T. by the way.)
Despite their fondness for writing, it is not shared by the general public with zero reviews posted on the regular sites such as Yelp or Yellow Pages at the time of writing this. Google had only one review and whilst negative, it was one of those negative reviews that most people will probably ignore with an accusation that on calling the firm seeking a solicitor she got the impression RSR were "only out to benefit themselves". Which is neither clear or helpful.
So we'll stick with facts to draw conclusions. Or as we normally do - state conclusions that could be drawn and why they probably shouldn't be. Confused? Well, take this example. If you research RSR Law Ltd you'll see that the company was started in March of 2013 which doesn't sound that old.
So is it a new firm with little experience?
No, because if you visit The Law Society website you'll see that Robert Stephen Rocker (Mr R.S.R.) has been a practising solicitor since November of 1997. The 2013 date only relates to when the company became "Limited" after the merger of RSR Law, Pinnacle One Ltd, and Sapphire Claims Management Ltd.
Robert Rocker has actually had over 30 years' experience in the legal profession in commercial roles, within other law firms, and in private practice. His particular areas of expertise are stated as Occupational Disease Claims, Employment Law and Contesting Wills.
Other firm members of note would be Andrew Paine, a founder and marketing director for Pinnacle One Ltd - and Brian Paine, another company founder of both Pinnacle One Ltd and the aforementioned Sapphire Claims Management Ltd.
The combination of these traits and backgrounds is probably the cause for not just the huge interest in writing about the industry, but the format and promotion of it all. For example, RSRLaw's
Twitter feed
is mostly links to their own blog updates regarding employment law. They also promote and back events/programs relating to their chosen fields, such as as the No Time to Lose campaign from the IOSH (Institution of Occupational Safety and Health).
"RSR Law Ltd wholeheartedly supports the IOSH No Time to Lose campaign. We believe that raising awareness of the risks of exposure to carcinogens at work will help save lives. Almost 14,000 new cases of work-related cancer and approximately 8,000 deaths from occupational cancer in the UK every year is simply too much.

We all need to do more to reduce these statistics - each one of those numbers is a person suffering from an illness caused by their work. The No Time to Lose campaign aims to raise awareness of occupational cancers and help provide solutions to help tackle this problem.

Andrew Paine
Director"
The facts, figures, and even the campaign's existence were things I wasn't aware of which is why I decided to copy/paste the entire quote above.
Hopefully you'll now see why we thought this firm would be a good addition to the 1to1Legal network
- e.g. not just a specialised focus, but a driven focus with a real interest in the subject as a whole. The quirks and matching ideals didn't hurt either.
Our regular section on navigation will be longer than usual for this piece though. Whilst we've linked to the official site at www.rsrlaw.co.uk above, there is a website at www.rsrlaw.com but it is for an American firm. There are also websites at www.rsrltd.co.uk and www.rsrltd.com but those are different firms as well. Variations on RSRLawLtd don't seem to exist as yet, but it seems as though the original firms that merged have simply closed their access rather than redirecting such as sapphireclaims.com
There is also an entirely separate site at www.ContestaWill2Win.com owned and operated by RSR Law. The offered service seems identical to that promised on the main site, but with extra clarifications regarding things such as home visits where needed, that they only cover England/Wales, and so on. We would still recommend bookmarking the official site above once on it just to be sure.
Any other downsides? Yes. Whilst their desire to write is commendable and their knowledge of the industry clearly apparent - they have skipped the spell checker on occasions. ;)
"RSR Law Ltd's focus is on getting you, our client, the best possible outcome for your case in a timely and stress free manor [sic]."
General Notes: We haven't looked in depth at their recruitment program so are unaware of any job vacancies available. If you do want to build a career with RSR Law Ltd, then it is best to visit their site and try to find the correct phone/email contact details set aside for such if they exist. (Emailing a CV to their reception looks lazy.) Due to the complexities of case funding and the constant government cuts, it is always best to ask about things such as Legal Aid up front. Lastly, each law firm should state a registration number with their respective Law Society and/or their SRA number. It's usually at the bottom of every page. -
www.rsrlaw.co.uk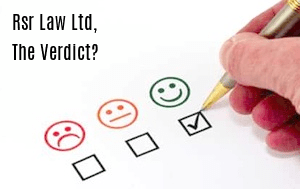 This
RSR Law Ltd
article is rated
0.0 /
5
based on 0 reviews. †
(Voting has been suspended for this page.)
Found this article helpful? Rate it:

---
Other Law Firms like RSR Law Ltd:
» CSL Law Ltd - It's universally understood that people are more inclined to scour the web for places to leave a review if they've received bad service ...
» HJA Solicitors - So all things considered ...
» CFG Law - So ...
» Jefferies Solicitors Ltd - A recent article in a href="http ...
» FamLegal Family Legal Solicitors - If however Court proceedings are necessary ...
» Marcus Andreen Business Law - As a commercial lawyer with more than 20 years' experience providing legal support to companies and individuals - his clients are mainly fast-growing ...
» Law In Cornwall - They offer family law services such as divorce ...
» Joanna Connolly Solicitors - Joanna Connolly ...
» Shaw Gibbs LLP - However ...
» Parkview Solicitors - You could always put that to the test ...
» Brearleys Solicitors - For legal issues ...
» Hartley Bain Solicitors - They begin by understanding the challenges faced by their clients ...
» Robson & Co Solicitors - We believe you need to really 'click' with your divorce solicitor ...
» Barrister-Direct Limited - At Barrister-Direct ...



Search for Solicitors
Near You:
Recommended Firms:
Firms with
Most Complaints:
This "Top 10 Worst" list is based on the Legal Ombudsman's complaints database, adjusted to factor in firm size and other relevant information:

» Mr Tariq Rehman of Kings Court Chambers
» Allan Rutherford Ltd
» Parabis Law LLP (aka Cogent Law or Plexus Law)
» Allerton Kaye
» DAS Law Limited
» Mr Wray of Kings Court Chambers
» Minster Law Ltd
» Handley Brown LLP
» Lyons Davidson Ltd
» Keppe & Partners

» Arc Property Solicitors Llp (has been closed)
» Abode Solicitors Limited (has been closed)
» Robert Meaton & Co (has been closed)
» Swinburne & Jackson Llp (has been closed)

The Legal Ombudsman's complaints database will tell you what type of cases were complained about and whether any compensation was ordered. View it here »
Related News:
Legal
: The leading law firms. Their guidance would be to find the proper group -- just one -- and go deep. In contrast. a sample of 15 smaller. relatively less known businesses posted average increase in revenue per lawyer of 12 ...

Edwards Reactivates Law License, Speaking At Occasion
: Lord Advocates LLP is an East London immigration law firm near Upton Park station. News asked hiring partners to rate the schools based on a 5-point scale. with 5 being outstanding. 4 strong. 3 good. 2 adequate. and 1 marginal. br ...

Publishing Via EReaders For BizDev? Wolters Kluwer The Intelligent Solutions Blog
: And. from a promotion and business development outlook. spending lots of time in bar associations is probably not the best place to meet and build relationships with prospective customers. There's more to Google. The truth is the ...

How A Tacoma Bankruptcy Law Business Can Help Stop Creditors Law Offices
: If your website will not include the precise words a query is entered in by a user. your web site will not show up in the internet search engine result set. Some strategies will demand advanced knowledge or the assistance ...

>> SEO for Law Firms? <<