Get Included. Get Referrals.
Our referral network is unique. The result of our 17+ years in legal services marketing. A complementary blend of the normal directory format, plus a map search facility, social outreach program, affiliate partnerships, and more - all with a focus on ROI ... i.e. producing convertible leads.
We achieve this by directing visitors on our site to use our custom search box, rather than simply browsing through a standard directory layout. They enter their postcode, but crucially they also enter the case type they are looking for help with.
That means your divorce firm isn't answering the phone to injured pedestrians, and your criminal law firm won't get inundated with commercial property questions.
Potential clients can choose to visit your website or contact you directly using the phone/email contact details we will display for you. We do not handle client details, sell them on or offer them other third party products/services. Furthermore, cities/areas are capped with a goal of 1 firm per 100,000 population**.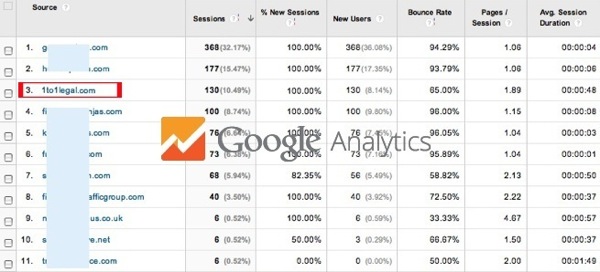 Unlike nearly every other 'law directory', we GUARANTEE that you'll receive traffic from your inclusion in our referral network. The above website received 130 visitors in March, from a listing priced at just £12 per month. How does that compare to your Yellow Pages ad? How does that compare to your pay-per-click marketing?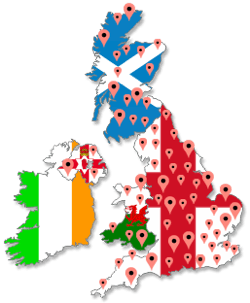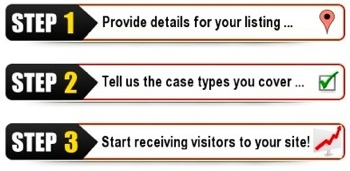 YOU COULD BE RECEIVING A NEW STREAM OF POTENTIAL CLIENTS IN JUST ONE HOUR!
The sign up process should take less than a minute. You will then receive an email asking for some further details of your firm. Once we get that back, we'll get you added ASAP.***
Ready to proceed? First we have to check that there is space available in our database for your firm. As previously mentioned, the database is capped to only allow 1 law firm per 100,000 population.**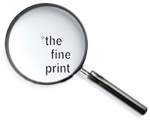 * Snapshot from our network analytics section taken on 18th February 2015.
** The goal of 1 law firm per 100,000 is not always 100% achieved, especially in very rural areas of the country where there may not even be 100,000 people within a reasonable driving distance of the law office in question. Contact us with your postcode and website address to receive more detailed information on being listed in your area.
*** Discounts available for firms located in low populations and firms with more than one office location.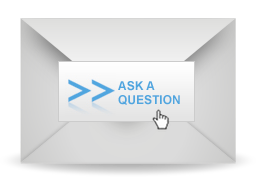 What are People Saying?
"I'm very impressed." - John A.

"We are happy to continue using 1 to 1 Legal" - McShane & Co

"refreshingly honest and accurate" - Claims Funding UK

"I think that there may be something in it" - CL


*random snippets copy/pasted from comments made by third parties on the web such as twitter, facebook, linkedin, etc.
Recommended Firms:
Case Audit Reports:
Audit Intelligence
offer full document handling processes to Solicitors and provide 'court ready' client documents supported by a case audit report.
Audit Intelligence audit a wide range of case types and promise an unbeatable service. They can even
help Solicitors bring on new clients
then assist in the litigation process with each and every one.


Email hl@auditintelligence.co or call 0203 925 2734.
Tips For Hiring A Law Firm Marketing Adviser
: PURCHASED STC Jan 2013 100% share sale in Ltd company legal practice for sale Based in buckinghamshire T/ GBP2.2million pa Nationwide offices Specialises in family law and mediation. The woman actually don't mingle with the rest o ...

The Best Way To Catch New Clients? Locate Their Associations And Get Actively Involved
: SMX has practical hints & techniques for anyone plus a welcoming environment for newcomers. Additionally. you want to emphasize your great work habits and your comprehension of efficiencies. billing and law firms make money. N. Yo ...

Inquire 4 Questions To Learn If Law School Is The Proper Move
: Over 10.000 attorneys nationwide have gained from implementing and learning the proven marketing and lead conversion strategies educated by The Rainmaker Institute. LLC. You are able to consult with their searchable list of law fi ...

Law Firm Advertising
: Their email database comprises details for about 3000 active marketplace buyers along with most of the 90000 legal practices in the United Kingdom giving your practice great marketing exposure. They often come in to guide ...

>> Law Firm SEO Services? <<
Solicitor Lead Referrals: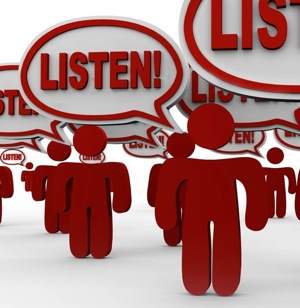 Browse our
Law Firm Directory: