Taylor Rose TTKW Solicitors Info

Taylor Rose Solicitors - London
Taylor Rose are a multi-disciplined law firm offering expertise on a variety of legal issues, for both business and private clients. Distinguished by an attention to detail and client dedication, they aim to provide outstanding client experiences that are price competitive whilst not compromising on either quality or results. 'City standards at regional fees'. They also have staff with a wide range of language skills including French, Polish, Mandarin, Cantonese, Kutchi and Gujarati.

13 Moorgate
,
London, Greater London
,
EC2R 6AD

http://www.taylor-rose.co.uk

1to1legal@taylor-rose.co.uk

01733 333 333

Taylor Rose Solicitors - Peterbrough
Taylor Rose Solicitors Limited are a multi-disciplined firm offering expertise in a variety of legal areas, for both commercial and individual clients. Distinguished by their attention to detail and dedication to client care, they aim to provide an outstanding client experience that is price competitive without compromising on quality or results: city standards at regional fees. Their staff members are also fluent in a wide range of languages such as Mandarin, Cantonese, French, Polish, Kutchi and Gujarati.

Northminster House, Northminster
,
Peterbrough, England
,
PE1 1YN

http://www.taylor-rose.co.uk

1to1legal@taylor-rose.co.uk

01733 333 333

Taylor Rose TTKW Ltd Solicitors in Peterborough & London
All across our site you'll see the stated goal of 'choice for clients'. To that end we partner with large and small, old and new, private and commercially focused, single and multi-office, barrister and solicitor, niche speciality and huge case range firms all over the UK and ROI.

Taylor Rose TTKW actually started off as a bit of a conundrum for us. They are relatively a large firm, but we've never found them aloof. They were a niche firm, but have spread out both in case types and locations. Their recent history is packed with more changes and growth than we typically report regarding our 100+ year established firms. They handle legal issues for individuals and businesses - but have services for other legal professionals such as costs drafting. And so on, and so on.

This could make it difficult for anyone to research and form an overall opinion. Deciding what information is useful, relevant, or up-to-date is a considerable task. For example, customer reviews from only a few years back could be about a different firm that has since been merged into Taylor Rose with the review page simply re-titled.

When considering whether we should recommend Taylor Rose to people, the first thing we noticed was that Taylor Rose didn't seem to have the greatest scores on common review sites. At the time of writing they were 3.7/5 on Yell.com, 7.4/10 on TrustPilot, and 3.9/5 on Google. However, the individual ratings themselves were mostly 5 stars or 1 star. Not 2s, 3s or 4s. Sifting further it appears that people are overjoyed with Taylor Rose in every way except for when it comes to conveyancing. So much so, that if Taylor Rose were to give up conveyancing they would probably have 5☆ scores across the entire web.

But this is true for a huge number of firms that handle property matters. The largest conveyancer in the UK is Countrywide Conveyancing who are currently rated 2.2/5 on Google out of 150+ reviews. The problem is that most people feel their house sale takes too long, most people wish they'd got more more money or paid less, most people feel a little fobbed off by their solicitor (that they've been calling three times a day for two months straight!) ... Does that mean reviews are no help? Of course not. It's just that for solicitors like Taylor Rose you really need to dig in a read a bunch of them if you're going to get a clear picture.


"We take the view that we're only as good as our staff and the last case we completed. This leads to happy clients and repeat custom."
Those words from Taylor Rose are actually unusual. Whilst most companies such as Argos, Asda, The AA, or Shell hope to make you a life long customer, these days solicitors typically don't think that far ahead because most people rarely hire a solicitor more than once a decade. This sort of thinking is what we would call 'old school'. However:
"Our lawyers are not your typical 'stuffy' solicitors and we recognise the stresses and strains clients invariably feel at the point they wish to instruct a solicitor."
A very direct reference to the notion that the many law firms still have elderly men behind large desks who love putting on wigs and cloaks and discussing protocol. Those definitely still exist. Recently I was on the phone with a solicitor who genuinely said the words
"Oh, that internet thing? No we don't do that."
Taylor Rose do Twitter, Facebook, LinkedIn, and even
YouTube
.
I'm pretty sure most of you perked up at that last one.
Being able to actually see and hear their staff? I'll bet many of you disappeared off to watch a few videos before continuing with this article. There are staff profiles with photos and direct contact details on the main website too, plus a page about their fundraising for the
Little Miracles Charity
.
There's a wide range of
information articles
available with step-by-steps and typical costs noted where possible. They even have an online legal document service at www.taylor-rose.net where you can create legal docs such as wills for a fixed price without having to visit the firm.
The words Taylor Rose use, the information available, the things they do, the openness, etc. simply doesn't happen much these days when the general aim is to get people to pick up the phone.
Taylor Rose have invested a lot of time, money, and effort into creating a useful, clear website that has a function
other than displaying brief sales pitch paragraphs. The same goes for their social media activity.
I've been working with solicitors for over 20 years now and this setup impressed me. They provide so much information on their site, plus offer lower cost setups if clients can do some of the paper work themselves - inviting them to join our panel was a no-brainer. There is only one little snag that we need to address.
Taylor Rose have their origins based in legal costs. In 2004 they started with that specialist service under the name McCullagh & Co. Then in 2009 they branched out into other case types before taking over the property and commercial law firm Wilkinson & Co in 2012. They have partnered with KJ Commons in Workington to create an office and presence there. And more recently in 2015 they merged with Tucker Turner Kingsley Wood LLP which is where the TTKW in 'Taylor Rose TTKW Limited' comes from.
This means there are lots of different names and websites connected with the firm. Here are the most common examples:
There are some individual online legal document creation sites such as the one I mentioned above and www.trl-online-wills.co.uk which is just for wills. There are also individual area sites such as www.taylor-rose-cumbria.co.uk for Taylor Rose's Cumbrian operations. www.taylor-rose.co.uk is the main one, but www.taylorrose.co.uk and both the dot com variants of www.taylor-rose.com and www.taylorrose.com are currently blank. I didn't even try adding the TTKW part on at this point. Obviously with all the hyphens and varying tlds, it is probably best to bookmark the main site once you know you are definitely on the right one. There are many variants you could accidentally type in and you absolutely don't want to end up in the wrong place when it comes to legal matters and money. Especially with all the
property purchase fraudsters
out there.
General Notes: We haven't looked in depth at their recruitment program so are unaware of any job vacancies available. If you do want to build a career with Taylor Rose TTKW Solicitors, then it is best to visit their site and try to find the correct phone/email contact details set aside for such if they exist. (Emailing a CV to their reception looks lazy.) Due to the complexities of case funding and the constant government cuts, it is always best to ask about things such as Legal Aid up front. Lastly, each law firm should state a registration number with their respective Law Society and/or their SRA number. It's usually at the bottom of every page. -
www.taylor-rose.co.uk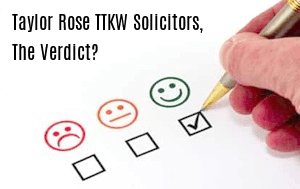 This
Taylor Rose TTKW Solicitors
article is rated
4.7 /
5
based on 23 reviews. †
Found this article helpful? Rate it:

---
Other Law Firms like Taylor Rose TTKW Solicitors:
» Newry's McShanes Law Firm - They talk about their ongoing training and development programmes to "maintain the highest standards at all times" ...
» Lambert Pugh Conveyancing Solicitors - Therefore ...
» Alfred James and Co Solicitors - "Alfred James & Co Solicitors LLP has an ethnic diverse work force and will be able to assist you regardless of your ethnicity ...
» Greg Almond Solicitors Manchester - But rest assured ...
» Oonagh Burns and Emerald Law Solicitors - She believes this has given her firm strong foundations based on trust and integrity ...
» Accident Claims Scotland - However ...
» Proddow Mackay Solicitors - We found both www ...
» Ropewalk Chambers Barristers - For the benefits of such related to your own case ...
» Jackson and Canter now Jackson and Lees - However ...
» MorganCarter Solicitors - That means the law firm takes no cut of your winnings ...
» Debt Solve UK - However ...
» Alison Ashworth Solicitors - We've seen the searches ...
» Taylor Bracewell Doncaster - Everyone in our office either have a relative or know someone that has been the victim of exploitation ...




Search for Solicitors
Near You:
Recommended Firms:
Firms with
Most Complaints:
This "Top 10 Worst" list is based on the Legal Ombudsman's complaints database, adjusted to factor in firm size and other relevant information:

» Mr Tariq Rehman of Kings Court Chambers
» Allan Rutherford Ltd
» Parabis Law LLP (aka Cogent Law or Plexus Law)
» Allerton Kaye
» DAS Law Limited
» Mr Wray of Kings Court Chambers
» Minster Law Ltd
» Handley Brown LLP
» Lyons Davidson Ltd
» Keppe & Partners

» Arc Property Solicitors Llp (has been closed)
» Abode Solicitors Limited (has been closed)
» Robert Meaton & Co (has been closed)
» Swinburne & Jackson Llp (has been closed)

The Legal Ombudsman's complaints database will tell you what type of cases were complained about and whether any compensation was ordered. View it here »
Related News:
Edwards Reactivates Law License, Speaking At Occasion
: The answers join your clients and your intangible services. U.S. Moreover. they distributed a questionnaire that inquired which businesses are currently using social technologies and practices . 3 school. They have a sign ...

Publishing Via EReaders For BizDev? Wolters Kluwer The Intelligent Solutions Blog
: Always ask them what the law firm was engaged to do and when the solicitor was a specialist. Although a vendor/agency will include a project coordinator/account manager for your work. that man rarely has access to or comp ...

Why Are Not Posts On Law Firm Facebook Pages Getting Seen?
: And. frankly. that is where most attorneys and law firms fall down. Criminal are searching for a law firm in a smaller geographic place using terms like Orange County or LA - 49.3K searches. You discover broad variation n ...

KG&B Law Launches Latest Guidebook In the Small LawFirm' Law And Learning Guidebook Series '
: Werner is a career and executive coach and law practice management consultant. Don't begin your project with more than you are able to afford. because it may take longer than you expect to get the anticipated funder. . They ...

>> SEO for Law Firms? <<