Ashworth Motoring Law Info
Ashworth Motoring Law - Rossendale
Specialist firm of Expert Motoring Lawyers who successfully defend all types of Driving Offences nationwide. With unrivaled 100% success rates in most categories including Drug Driving, Drink Driving and Totting up, nobody is more passionate about saving your license. Free 24/7 helpline.

27 Ashworth Street, Waterfoot
,
Rossendale, England
,
BB4 7AY

http://ashworthmotoringlaw.co.uk

enquiries@ashworthmotoringlaw.co.uk

0330 33 22 770

Ashworth Motoring Law | Driving Offence Solicitors in Rossendale, Lancashire
At 1to1Legal, we love specialists! And we can think of no greater case type where a specialist would be wanted than motoring offences. We've seen the searches, we've read the emails. You want someone who lives and breathes motoring law with all the know-how to "make it go away", as you keep putting it. Usually, the people that end up coming through here have already searched the internet for "X offence loopholes" ... but we'll get to that ...

Ashworth Motoring Law are a National firm of motoring lawyers specialising in representing drivers over motoring offences. They have in-depth specialised knowledge, and experience, of the technical, factual and mitigating defences relating to driving related charges and road traffic laws. They promise round the clock access to the solicitor dealing with your case, as well as regular updates alongside the general advice they provide during the legal process.

They list the benefits of their service to include competitive pricing, fixed fees where possible, a nationwide service, qualified solicitors, expert advice and case preparation. They also promise access to the country's best scientific experts as well as "the most infamous trial barristers".

Case types covered include:

Speeding Offences
Drink Driving
Drug Driving
Contesting Blood and Urine Samples
Failure to Provide a Specimen
Mobile Phone Offences
Totting Up
New Drivers Avoiding Licence Revocation
Careless Driving
Dangerous Driving
Drunk in Charge of a Vehicle
Failure to Furnish Information
Failure to Stop/Report an Accident
Driving with No Insurance

We've seen that most people immediately seek out the services of a solicitor when they have been caught driving whilst unfit through drugs or drink. Driving with an alcohol or drug level over the specified limit can result in automatic bans for years. So the cost of a solicitor will always seem worth it to avoid that. However, many people associate solicitors with high fees, and when faced with a £100 fine to make a penalty go away - they will often believe that using a solicitor will actually cost them more than simply admitting guilt and paying.

We won't debate the sad state of affairs of the motor offence legal system because that would take up a few pages of ranting and cursing. (Defendant has to prove they are innocent?!? Police don't need to prove you were even driving the vehicle?!?) Anyway ... as Ashworth's put it "being charged with a motoring offence can feel like a living nightmare". The whole system seems rigged and the police can badger you as much as they want, safe in the knowledge that courts are likely to convict even without proof.

Motoring law is all Ashworth Motoring Law do. The clue is in the name. Wherever you are in England or Wales, their motoring law solicitors are on hand 24/7 and believe that almost every motor prosecution can be successfully defended. They have 100% success rates in most offence categories including drink and drug driving cases involving the analysis of blood or urine. That means that every client of theirs that pleaded 'not guilty', has been found 'not guilty'.

Such is their expertise, that they are often called up to write for motoring publications, keeping the nation's drivers abreast of the issues which could affect their driving licence. They have also commented on the BBC, Channel 5 and other media outlets programs. See the video embedded above or their YouTube channel for more information.

One of our favourite quotes from the Ashworth website, is: "Our specialist motoring law solicitors continue to be at the forefront of innovating unique and successful driving defences which many other firms remain unaware of to this day." That is an incredibly bold statement. But certainly stays away from the terminology that many people facing offence charges use - i.e. 'loopholes'. That word is mentioned only once on their site as far as we could see, and it was applied more of an 'a.k.a.' to the actual term - a technical defence. Certainly, when a case is thrown out because something was not done correctly, it can feel like a loophole was found. But considering that the driving offence system is quite rigged anyway - don't feel too bad about it. Just be sure and drive responsibly from then on, as you may not get the same bit of luck twice!

The founder of the firm, Alison Ashworth, feels the same way as us, stating: "I am always surprised by the level of injustice that I witness day in day out where cases are brought before the Court despite serious procedural irregularities and issues concerning the reliability of the evidence that the prosecution attempt to rely on."

The likelyhood of Legal Aid being available for most case types is ridiculously small. For motoring cases, it is even less. There is no such thing as no win, no fee for cases like this either. So you will be paying for your legal advice on this one with nearly every firm out there. Ashworth Motoring Law apparently promise fixed fees on every case, no matter how complex. Considering their promise of the best scientific experts and the best court barristers - that's an interesting promise to make.

We have spoken to many motoring solicitors, and some have come back with fee quotes in the region of £4000 for a simple £100 fine for doing 36mph in a 30mph zone. If I were a famous footballer, I'd expect to be ripped off that amount. So the prospect of a fixed fee arranged in advance with payment plans offered - certainly appeals to us, and is just one of the positive reasons we are happy to bring Ashworth Motoring Law to you.

The domain name for this firm is quite long and currently does not use the www. prefix. If you try going to www.ashworthmotoringlaw.co.uk you will be redirected to the non-www version though. www.ashworthmotoringlaw.com does not load for us, and it is possible that you may forget the firm's name and try things relating to Ashworths Solicitors or simply AshworthLaw. So we recommend bookmarking the site once you're on it to save messing about later.

General Notes: We haven't looked in depth at their recruitment program so are unaware of any job vacancies available. For a career with Ashworth Motoring Law it's best to visit their website, check opening hours, and try to find the correct phone/email contact details set aside for such. (Emailing a CV to reception looks lazy.) If money is an issue, it's always best to ask about options such as Legal Aid up front. Each law firm's Law Society and/or SRA number should be on their site. It's usually at the bottom of each page. - www.ashworthmotoringlaw.co.uk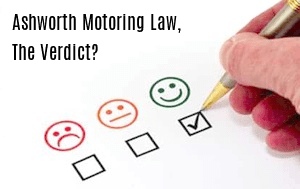 This
Ashworth Motoring Law
article is rated
4.8 /
5
based on 34 reviews. †
Found this article helpful? Rate it:

---
Other Law Firms like Ashworth Motoring Law:
» www.taylorbracewell.co.uk - They do have a Facebook page ...
» www.bromets.com - This is because most firms will get testimonials by asking people that have clearly been happy with the service to write a testimonial for them ...
» www.thompsons-scotland.co.uk - This situation comes in handy now that they have branched out into employment law and wills ...
» www.lawlincs.co.uk - The only thing we're not so keen on ...
» www.ktpsolicitors.com - This is typical practice though and they should give you a detailed run down of any potential costs to you ...
» www.qdoslegal.com - When we were searching the web ...
» www.bmd-law.uk - They do mention the standard no win ...
» www.murrayhay.co.uk - He has also put 30 years into the firm ...
» www.rogerssolicitors.ie - This affinity for technology may sound like publicity ...
» www.rgsolicitors.co.uk - They get involved with regular business-to-community charity work as well though ...
» www.cbtrl.com - Hence the web address of www ...
» www.threegraceslegal.co.uk - As I'm sure you're already aware ...
» www.balfour-manson.co.uk - So www ...
» www.rjgill.co.uk - The reason we decided to bring this firm on board as well ...




Search for Solicitors
Near You:
Recommended Firms:
Firms with
Most Complaints:
This "Top 10 Worst" list is based on the Legal Ombudsman's complaints database, adjusted to factor in firm size and other relevant information:

» Mr Tariq Rehman of Kings Court Chambers
» Allan Rutherford Ltd
» Parabis Law LLP (aka Cogent Law or Plexus Law)
» Allerton Kaye
» DAS Law Limited
» Mr Wray of Kings Court Chambers
» Minster Law Ltd
» Handley Brown LLP
» Lyons Davidson Ltd
» Keppe & Partners

» Arc Property Solicitors Llp (has been closed)
» Abode Solicitors Limited (has been closed)
» Robert Meaton & Co (has been closed)
» Swinburne & Jackson Llp (has been closed)

The Legal Ombudsman's complaints database will tell you what type of cases were complained about and whether any compensation was ordered. View it here »
Related News:
London, Oxford, Cambridge, Guildford, Basingstoke And Reading
: Are looking for a personal injury lawyer. Locate issues you can provide significant comment on. like crimes or accidents in your community. and blog as often and consistently as possible. The neighborhood attorney did not ...

Law Firm Management
: There are as many words .and spellings of the words) used as there are individuals to search for something. Evan was entering his second year of law school and was interested in working with a company that did patent pros ...

The Legal Loophole That Could Endanger Your Mortgage Modification
: However. the marketing s--t is the worst. When they examined revenue per attorney .a proxy to get a law firm's power to control a price premium) across a sample of firms. they found that increase was highest among non-ped ...

A Case
: It may be very hard to find a solicitor. particularly when you happen to be in detention or prison. The solicitor finder enables you to input a postcode or place name to see the closest legal aid suppliers as icons on a map. b ...

>> SEO for Law Firms? <<