PM Law Solicitors Info

PM Law - Sheffield
Specialist dispute resolution and employment solicitors. National coverage with additional expertise in conveyancing, wills and probate. Accessible by email, telephone and in person, with disabled and wheelchair access. Initial free consultations available, along with no win no fee arrangements in certain circumstances. PM Law has been established since the early 90s and is accredited as specialists by the Law Society, working with many blue-chip businesses as well as helping individuals with their legal needs.

PM House, 250 Shepcote Lane
,
Sheffield, England
,
S9 1TP

http://www.pm-law.co.uk

disresenquiry@pmlaw.co.uk

0114 220 1795

PM Law based in Sheffield & Maidenhead, Proddow Mackay Solicitors
The PM stands for Proddow Mackay, which is a perfectly good name. The kind of name you expect a law firm to have. But with the double "d" in the middle of Proddow and the various versions of Mackay available - it was certainly a wise decision of theirs to push forward with the easier and shorter PM Law. "P-M" is not only far easier to spell, it takes less time to type with your thumb. Making it well suited for the smartphone generation.

Through the 90s the firm moved away from general practice to more specialised areas of law. As they point out on their website:

"Specialising gives a greater degree of knowledge and expertise whilst at the same time allowing investment in systems and processes to maximise service to our client whilst keeping our prices highly competitive."

Certainly a mouthful, but you'll probably only need a second run at it to grasp the concept being put forward. Basically, it's the vice versa of 'jack of all trades, master of none'.

PM Law was founded in 1990 in Maidenhead, Berkshire. However, it is their Sheffield location that is currently marked as the head office. The Sheffield office didn't actually open until 1998, and apparently was not even created to serve the general public's legal needs. It was for insurance legal work. These days, the firm employs around 180 people and continues to grow.

PMLaw solicitors have been handling personal injury cases for more than 20 years now, according to their site. But that was probably written some years ago and we would imagine their experience is getting closer to the 30 mark. For accident compensation claims, they promise to achieve the best results within the shortest timeframe, ensure client care, and maintain high levels of customer service. But that's a promise every firm makes. What do they do different?

Whilst they rhetorically ask the common question "How much compensation can I expect for my injuries?" - we are happy to see that they do not overtly answer it. One thing we are not keen on at 1to1Legal, are pages of injury firm's websites dedicated to large, bold-type, tempting numbers that really have no real bearing on each individual case. They have a 'compensation calculator', but in all honesty - ignore it. Calculators like this are gimmicks designed to make the idea of claiming seem worthwhile by stating potential financial rewards. There is usually a disclaimer somewhere stating that the numbers quoted by the calculator may have zero to do with your final settlement figure. I'm willing to bet that if you phone up any law firm and ask how much compensation you'd get for a head injury, they would not quote you a figure until they had a lot more information and possibly even medical records.

Obviously Proddow Mackay cover a wide range of case types beyond injury claims, and the service promises made about their personal injury department continue here. They promise to put your needs first, to provide clear and honest advice, deal with specialists, and supply the highest level of client care possible for employment law, conveyancing, dispute resolution, PPI, tenant disputes, will, trusts, and probate.

The list of business legal services they provide is not nearly as lengthy, but they do cover the basics. They still claim to have a "wealth of legal and commercial expertise" whilst recognising that "every business is different". They cover contracts, debt recovery, employment law and property litigation.

However, we would recommend using a firm like ProddowMackay for commercial help if you are a small or medium sized business. We've found that specialist and in-depth business law firms tend to favour larger clients, as the repeat work is where their bread and butter lies. Smaller businesses having only a couple of legal matters a year at most - may find themselves feeling like second class clients. Therefore a firm like PMLaw with the expertise and experience to handle the most common business matters can actually be a better solution.

Interestingly, PM have some personal experience with business cases after losing a gender discrimination case brought by one of their own staff back in 2003. Harriet Davies-Taheri was a small claims manager at the firm who claimed that the pressure of work increased when she became pregnant, ultimately resulting in the loss of the baby. A very sad case and a difficult one to defend against when the claimant's 'injury' is the loss of a baby. An aggressive defence would make you seem inhuman.

Obviously, if we thought that this case from thirteen years ago was a poor reflection on the firm - we would not have invited them onto the 1to1Legal panel of solicitors. Indeed, there are absolutely no complaints against the firm in the Legal Ombudsman's current complaints database. Which, for the size of firm, is quite an achievement. The story is just an interesting piece of news/information which I feel adds to the overall concept that this firm is well established with a history containing ups and downs to learn from and grow.

They are keen on writing articles/blog posts too, many aimed directly at consumers with headlines such as "10 questions you need to ask before you buy a property" and "Wales is set to follow Scotland and end the Right to Buy scheme for council tenants". Whilst the articles may sound like common blog pieces, the fact is - they are trying to engage with people and the internet beyond simply having a website with contact details.

Considering the web address is www.pm-law.co.uk, we had some concerns about browsing. For example, www.pmlaw.co.uk and www.pm-law.com do not exist, whilst www.pmlaw.com is a different law firm. www.proddowmackay.co.uk and www.proddowmackay.com however, seem to take you to the exact same site as the original no problem. Beyond that, PM Law seem to pop up elsewhere on the web. We found both www.theinjuryclinic.co.uk and www.forthepeople.co.uk were separate endeavours, both stating their part in the PMLaw group and matching the SRA registration number. Once you are positive you are on the correct site, I suggest bookmarking it to be sure though.

We haven't looked in depth at their recruitment program so are unaware of any job vacancies available. If you do want to build a career with PM Law Solicitors, then it is best to contact them using the phone, email, or website details given above. Due to the complexities of case funding, it is always best to ask about things such as Legal Aid in conversation too. Each firm should state a registration number with their respective Law Society, as well as their SRA number where applicable. Ideally, you should visit the website and look for any specific phone number or email address to contact the right department. - www.pm-law.co.uk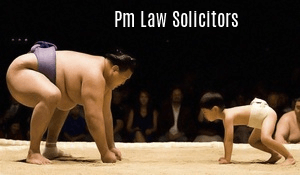 This
PM Law Solicitors
article is rated
4.3
/
5
based on
21
reviews. †
Rate it:

---
Other Law Firms like PM Law Solicitors:
» Ropewalk Chambers Barristers - Each chambers has clerks who know the law and know their members ...
» Jackson and Canter Solicitors - The first thing that will strike you about Jackson Canter ...
» MorganCarter Solicitors - However ...
» Debt Solve UK - Often ...
» Alison Ashworth Solicitors - At 1to1Legal ...
» Taylor Bracewell Doncaster - The "About Us" page is a standard feature of any businesses website ...
» Bromets Jackson Heath LLP - Dispute Resolution cases come with the warning that it is important to seek advice as soon as possible to discover your options ...
» Thompsons Solicitors Glasgow - Thompsons Scotland was only set up as recently as 1979 in Glenfinlas Street ...
» Mason Baggott and Garton Solicitors - However ...
» KTPSolicitors - If you flick through the K-T-P website ...
» Qdos Solicitors Legal Services - Qdos themselves have a range of businesses helping with various facets of running one ...
» BMDLaw Solicitors - There is a section about their Family Law offerings such as divorce where base fee amounts are quoted ...
» MurrayHay Solicitors - Ian has 30 years experience in residential and commercial property ...




Search for Solicitors
Near You:
Recommended Firms:
Firms with
Most Complaints:
This "Top 10 Worst" list is based on the Legal Ombudsman's complaints database, adjusted to factor in firm size and other relevant information:

» Mr Tariq Rehman of Kings Court Chambers
» Allan Rutherford Ltd
» Parabis Law LLP (aka Cogent Law or Plexus Law)
» Allerton Kaye
» DAS Law Limited
» Mr Wray of Kings Court Chambers
» Minster Law Ltd
» Handley Brown LLP
» Lyons Davidson Ltd
» Keppe & Partners

» Arc Property Solicitors Llp (has been closed)
» Abode Solicitors Limited (has been closed)
» Robert Meaton & Co (has been closed)
» Swinburne & Jackson Llp (has been closed)

The Legal Ombudsman's complaints database will tell you what type of cases were complained about and whether any compensation was ordered. View it here »
Related News:
Law Firm Advertising
: The business has petitioned the court for permission to carry on to cover salaries. benefits and paid time-off for present workers. Based on the complexity of your problem. it might be smart to find specialist advice in order to k ...

East Lancs Solicitor Struck Off After GBP400k Fraud (From Lancashire Telegraph)
: all but the big urban centres. In line with the Peppermint research just 1 in 14 consumers use marketing to pick a solicitor. It is possible that there will be no solicitors companies in ANY CJS place where there are fewe ...

Small Patient Choice Next Health Overhaul Issue
: Price recovery. The price Recovery Survey suggests what types of expenses firms are able to charge back to clients. LawyerLocator offers a free searchable database of over 11.000 solicitors and law firms enabling users select. to ...

Generate Inbound Links To Your Law Firm Website
: Perez Bustamante & Ponce is one of the largest businesses in Ecuador and enjoys a long standing reputation as a legal power station at the vanguard of the corporate sphere. With it now being live. the brand new objective would be ...

>> SEO for Law Firms? <<