RJ Gill Solicitors Info
Please note: we are no longer partnered with RJ Gill Solicitors so the information below may be out of date. This page will be archived, then removed/replaced in due course. Please use the solicitor search function to find an alternate firm in your area. Thank you.

RJ Gill Solicitors - Skelmersdale
Attention to detail and a desire to exceed client expectations are what set RJGill apart from the crowd. They believe it's better to be smart and creative, rather than loud and aggressive. This has earned them respect and a recognisable reputation with their opposition. Their area of expertise is personal injury cases, road traffic accidents, accidents in the workplace, slips, trips and falls, professional negligence, complex catastrophic injury claims, and fatal accidents/injuries. RJGill is a member of The Law Society and the Association of Personal Injury Lawyers (APIL).

Allied Business Centre, 1 Potter Place West Pimbo
,
Skelmersdale, England
,
WN8 9PW

http://www.rjgill.co.uk

N/A

N/A

RJ Gill Solicitors in Skelmersdale
If you've used our site before, you'll know that we try to offer a selection of firms to people seeking legal help. Local and national, specialist and general law, large and small. We seek them out, research them, and if they offer something we don't already have on our network - we include them.

RJGill may seem to have a small range focus targeting mainly the most common types of personal injury. But that's the point. Their Skelmersdale office lies just around the borders of both Merseyside and Lancashire, where we already offer plenty of other accident claim firms for people to choose from. The reason we decided to bring this firm on board as well, is to offer something more streamlined and dedicated to speedy resolutions.

Most large and general law firms will handle an injury compensation claim, but they will also handle divorce, wills, business law, conveyancing, and more. In such cases, even with a dedicated personal injury team, the way in which personal injury claims are handled is often the same as all the other case types. Despite the modern age, some firms can still get bogged down with bureaucracy - both internally between staff and externally with the clients. This is not to say that you'll get a bad outcome. It just may feel like it's dragging on un-necessarily.

That's where RJ Gill come in. As they deal with only the most common types of accident compensation such as road accidents, slips and trips, work injuries, and professional negligence - they will be set up to process them in the fastest and most efficient way possible. This doesn't mean cutting corners and it doesn't mean accepting a smaller amount of compensation. It just means that everything in their office including the staff, software, paperwork, resources, etc. will all be ready to go all the time, with only injury claims on their mind.

This should result in your claim being handled faster and more efficiently, which means lower legal costs for the third party, which means an inclination towards a faster settlement and agreement to the requested compensation amount. You see, if the third party's insurer believes the whole claim should only cost them around £8000 - then they don't care whether they pay out £6000 compensation to you and £2000 legal fees to your solicitor early on, or £4000 compensation to you and £4000 legal fees if the case has taken much longer for your solicitor to put together. However they may very well have a problem with paying out £6000 to you and £4000 legal fees if they feel those legal costs have been accrued un-necessary. Having personally been in the room and on both sides of the fence several times - both in court and out of court settlement proceedings - I've witnessed the stubbornness of solicitors and barristers when it comes to legal fees.

So that's why we wanted a firm like RJ Gill on board our network. But what do RJ Gill think their strong points are?

There is no shortage of positive phrases such as "high quality legal advice", "a no-nonsense approach", "expert team of specialist lawyers", and "always there for you". Which all sound great, except that we wouldn't expect any firm to consider themselves low quality, non-experts, never there for you, or enjoying nonsense. So digging a little deeper we were glad to see better explanations of commonly over-used phrases such as "no win, no fee". To quote their site:

"Funding your claim is extremely simple and more importantly, we do not ask for any fees from you at the beginning of your claim; We will of course deal with the funding of your claim on an individual case by case basis, however the vast majority of Clients will benefit from a 'No-Win, No-Fee' agreement."

To us this puts across a far better description of the no win, no fee concept compared to a lot of firms that simply quote the phrase as a sort of slogan. On it's own, many people mistake the phrase no win, no fee as meaning there are no fees at all. But without the accompanying catchphrase of "100% compensation", that may not be true. Whilst you may not have to pay fees if your case fails, you could end up paying out 25% of your compensation to the law firm handling your case. That's why clarity is important. RJGill's statement above gives a far better impression about the various financial arrangements possible.

Of course, that means despite them using even more common phrases such as "always transparent", "clear communication", "nothing is hidden", and so on which you'll see on most law firm's websites - on this occasion we have to say that such phrases are warranted.

RJ Gill's solicitors also pride themselves on being "personable", leading to many clients recommending them to friends and family. They also boast about being engaged in the community, with sponsorship and support of local organisation such as Upton Juniors FC, Blackbrook ARLFC, and the Steve Prescott foundation. Perhaps 'boast' is too strong a word though, because whilst some firms will devote large sections of their website to displaying their charitable nature, coupled with plenty of press releases about how charitable they are - we don't see any of that here.

So who are they?

Starting off in Wigan back in 2004, Robert Gill left the firm he was working at to start up on his own. Now a dozen years later the firm has relocated to Skelmersdale and has around 20 staff. RJ Gill Solicitors is a trading name of Gilgrescu Limited, but Gilgrescu doesn't really show up in the branding and there is no separate website for the base company. There is nothing odd or shifty about this though. Whilst some firms will set up a 'trading as' brand to avoid tarnishing their main company's name should things go wrong, on this occasion the 'trading as' name is the founding solicitor's own name. Robert Gill = R J Gill. Hard to leave that one behind!

Robert Gill's own profile on the site is full of language regarding his goal "to make a real influence in the lives of people", including his belief that connecting well with a client and understanding their emotional state as much as possible - will result in a better handled case and outcome. It also re-iterates a statement seen elsewhere on the site that "it's better to be smart and creative rather than loud and aggressive".

Other solicitors at the firm include Anthony Scully, with over 20 years' experience dealing with personal injury claims such as motor accidents, employer and public liability. Plus Steven Green, described as an "approachable, sympathetic, no nonsense lawyer". He too has considerable experience dealing with personal injury cases from relatively minor injuries to major incidents resulting in permanent physical or psychological disabilities.

Lastly, a quick note on navigation. Obviously the link we've provided above is to www.rjgill.co.uk, but the alternative www.rjgill.com is owned by a different firm. At the moment it is a totally different company based overseas, but you never know. Also there is an RJ Solicitors based in Bradford, but they do not seem to have an online presence so much. Either way, it's probably best to bookmark the correct site to ensure no typing or search errors.

General Notes: We haven't looked in depth at their recruitment program so are unaware of any job vacancies available. If you do want to build a career with RJ Gill Solicitors, then it is best to visit their site and try to find the correct phone/email contact details set aside for such if they exist. (Emailing a CV to their reception looks lazy.) Due to the complexities of case funding and the constant government cuts, it is always best to ask about things such as Legal Aid up front. Lastly, each law firm should state a registration number with their respective Law Society and/or their SRA number. It's usually at the bottom of every page. - www.rjgill.co.uk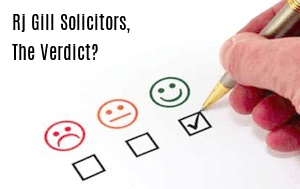 This
RJ Gill Solicitors
article is rated
0.0 /
5
based on 0 reviews. †
(Voting has been suspended for this page.)
Found this article helpful? Rate it:

---
Other Law Firms like RJ Gill Solicitors:
» www.go-complain.co.uk - In other words ...
» www.lmdlaw.co.uk - Then they cut legal aid more ...
» www.nesbitlawgroup.co.uk - He is himself an APIL ...
» www.elselaw.co.uk - I'd also assumed that the lack of information about the firm on the web was due to them not really doing much of note ...
» www.meresbrookpollardsolicitors.co.uk - But whilst the two main solicitors of the firm have a combined history of 20 years since they became solicitors ...
» www.huneewothsolicitors.co.uk - For them to get onto the panel ...
» www.daveylaw.co.uk - If we asked people to imagine a typical ...
» www.ehlsolicitors.co.uk - A lot of new trendy names are popping as solicitor brands these days ...
» www.cubismlaw.com - If you haven't read our articles and links to pieces about law firm email scams ...
» www.claimsfundinguk.co.uk - We read through the FAQs ...
» www.ashmanssolicitors.com - Usually ...
» www.kctrust.co.uk - We always encourage and reward our advisers for going above and beyond what is expected of them so that we can exceed our clients' expectations ...
» www.blainboland.co.uk - On top of that ...
» www.amnestysolicitors.com - They were married in Scotland but chose to live the first 5-6 years in the USA ...




Search for Solicitors
Near You:
Recommended Firms:
Firms with
Most Complaints:
This "Top 10 Worst" list is based on the Legal Ombudsman's complaints database, adjusted to factor in firm size and other relevant information:

» Mr Tariq Rehman of Kings Court Chambers
» Allan Rutherford Ltd
» Parabis Law LLP (aka Cogent Law or Plexus Law)
» Allerton Kaye
» DAS Law Limited
» Mr Wray of Kings Court Chambers
» Minster Law Ltd
» Handley Brown LLP
» Lyons Davidson Ltd
» Keppe & Partners

» Arc Property Solicitors Llp (has been closed)
» Abode Solicitors Limited (has been closed)
» Robert Meaton & Co (has been closed)
» Swinburne & Jackson Llp (has been closed)

The Legal Ombudsman's complaints database will tell you what type of cases were complained about and whether any compensation was ordered. View it here »
Related News:
Edwards Reactivates Law License, Speaking At Occasion
: Try for your self and see how their buyers locate them to enroll with us. This traffic is low value. and you don't want your PPC ads showing up in these search results. Administration is a UK legal process under court ove ...

Publishing Via EReaders For BizDev? Wolters Kluwer The Intelligent Solutions Blog
: They'll know their way around email marketing services and CRMs like Constant Contact and Exact Target. Clear signs of this is found in their recent research for the Societal Law Firm Index . which reveals that while a su ...

Why Are Not Posts On Law Firm Facebook Pages Getting Seen?
: Nowadays. the Internet causes it to be possible for every single company to eventually become more visible to prospective customers either in a local geographical sense. nationally. or across the world - literally. Latham initiall ...

KG&B Law Launches Latest Guidebook In the Small LawFirm' Law And Learning Guidebook Series '
: Your law firm can make powerful and applicable messages through the use of a number of basic guidelines in developing your own personal strategy. Wendy L. They find these London East End immigration law firms intriguing. ...

>> SEO for Law Firms? <<