Rogers Solicitors Info
Please note: we are no longer partnered with Rogers Solicitors so the information below may be out of date. You may try the stated web addresses manually elsewhere, but if you click on the link you will remain on this website. This page will be removed/replaced in due course. You can use the solicitor search function on the right to find an alternate firm in your area. Thank you.

Rogers Solicitors - Dublin
Rogers Solicitors are a leading Irish personal injury law firm based in the heart of Dublin and serving all of Ireland. They are specialists in their field, practising nothing other than personal injury law. Clients do not have to pay anything up front or cover running costs such as doctor's reports and court fees. They primarily deal with Road Traffic Accidents, Workplace Accidents, Slips and Trips. They are open on Saturdays for appointments, and have a solicitor on call 24/7.

N/A
,
Dublin, Ireland
,
Dublin 2

http://www.personalinjurysolicitor.ie

N/A

N/A

Rogers Personal Injury Solicitors based in Dublin 2, Ireland
It may look to the casual browser that 1to1Legal is just some directory listing solicitor's details. However, the number of firms we recommend to people is tiny when compared to the populations we are trying to cover. England has around 60 million people in it, so we have a large number of law firms spread around that country covering various case types to refer people to. In reality, we have only 43 firms covering England.

Our careful selection process and 'picky' nature is only really apparent in the lower population countries we serve, such as Scotland with it's 5 million residents and the Republic of Ireland with 4.5 million residents. Both have populations less than London, so will always have a lower number of firms covering the country. It may sound odd to have the same number of firms covering Ireland as we do London - but despite the size of an area, we focus on the population count. Balancing coverage in spread out population is therefore no easy task.

So when we say we're happy to have Rogers Solicitors on board ... we mean it! We want to be able to offer the people of Ireland choice. But not just choice - choice between good, experienced, actual law firms. Not data collection companies selling your details on to law firms.

Rogers Solicitors describe themselves as a "leading Specialist Civil Litigation firm based in the heart of Dublin". They act for both private individuals and businesses mainly in litigation matters such as accident claims, business disputes, debt recovery, employment disputes, road traffic accidents, and so on.

They are open on Saturdays 9am - 5pm (apparently the only law firm in Dublin to do so), have a 24/7 helpline, and promise that if you can't come into the office they will come to you. They also promise that you will always deal with a solicitor throughout the case.

The principal solicitor is Ciaran Rogers who boasts many years experience in Civil Litigation. He is qualified to act as a Solicitor not just in Ireland, but in Northern Ireland, England and Wales. Don't underestimate the value of having someone with an understanding of and ability to cross UK borders.

Recently the firm's focus has been on personal injury. In fact, the web address they've asked us to use is not their main www.rogerssolicitors.ie one, but www.personalinjurysolicitor.ie which (as the name suggests) gives details and contact information for people looking to make a claim after being injured. Again, they mention the 24/7 nature of their phoneline and their extensive knowledge of this type of litigation. The main accident types are mentioned such as road traffic accidents, work accidents, slips, trips, etc. as well as medical negligence cases where people have been injured whilst under the care of a medical professional - e.g. medication mixups, surgery mistakes, bad advice, and so on.

The site details what they think sets their firm apart from the many other accident compensation firms out there. First is their experience. They claim to "know the law inside out" and have built up a network of barristers and medical experts whilst dealing with cases through both the courts as well as the various Injuries Boards.

Secondly, their service - which they say is jargon-free with regular updates for clients at least once a week during the case. They promise to answer calls, emails and texts "straight away". Whilst this is not a measurable time scale, I think that most people would consider anything over an hour to be missing the "straight away" target. They also describe their staff as "friendly" and "down to earth", however I've yet to meet anyone from Ireland that doesn't meet that description!

Certainly, Rogers' law firm is no stranger to the modern age. They have an active news section on their website detailing everything from their announcement about opening on Saturdays, to their radio appearances, and more. They use WhatsApp and there was even mention of their own app being developed to allow clients access to information about their ongoing case. This affinity for technology may sound like publicity, but an understanding of the way people use technology is actually invaluable when it comes to running cases. They state an example on their site where someone happened to be filming during an accident and the found footage completely turned the case around. We expect to see a lot more of this in the future as other law firms catch up with the idea that someone somewhere is usually filming absolutely everything!

Beyond their own services, the site also has a blog section. Again, this is usually a source of free publicity for a firm. However, Roger's solicitors have put together some real articles. Advice on accidents in factories, what to do after a car accident, information for making a cyclist claim, etc. There's an article helping people understand Ireland's independent statutory body, The Injuries Board, which was set up under the Personal Injuries Assessment Board Act 2003. There is even a piece on the Latin phrase "Ex Turpi Causa Non Oritur Actio", (from a dishonourable cause, an action does not arise), sometimes referred to as the illegality defence. You know a firm takes it's blog seriously when they start quoting Latin!

We do sound like we're singing their praises, don't we? Well, I think you'll agree that the reasons we sound so positive are based on solid, quantifiable activities. For example, when the head of a firm is often asked for his opinion and advice on a radio show - then the firm is unlikely to be brand new and run by a solicitor with the ink on his degree still wet.

However ... we do have one complaint. In every article we write we do a paragraph on browsing safety. We check out the website and a few variants and advise on any possible confusions or security risks. To do that fully for this firm would take an entirely separate article! As I mentioned before, despite the firm's main website being www.rogerssolicitors.ie, we've been asked to link to www.personalinjurysolicitor.ie for people to go to. But it doesn't stop there. When we tried searching variants we didn't just have to check addresses such as www.rogerssolicitors.com (doesn't exist) - a huge number of extra sites came up including www.dublinsolicitor.ie, www.neilmanleysolicitors.ie, www.traceysolicitors.ie, www.sweetmanssolicitors.co.uk, and several others. Only the first on on that list seems to belong to this firm but even the variant of www.dublinsolicitor.com, does not. There doesn't appear to be any link between Rogers and Neil Manley Solicitors, Tracey Solicitors, or Sweetmans Solicitors other than the firm's offices being located in the same place.

There were also a few domains such as www.oakgateinjuryireland.com and www.daltbam-injury.com which showed up in our background checks. But when visited, none of them were currently showing any information. Most came up because they shared a lot of information with each other and the main company sites - e.g. some had the exact same disclaimer pasted at the bottom:

"Disclaimer: In contentious business, a solicitor may not calculate fees or other charges as a percentage or proportion of any award or settlement."

There were a couple of domains that, like the one we've been assigned, seem to have been created as niche offerings for people to help promote certain aspects of the firm. For example, www.personalinjurysolicitorsdublin.info was launched to highlight the firm's focus on personal injury as well as their premium location. They announced the opening of this site across various media outlets with the aim of promoting their no win, no fee representation to victims of accidents and injuries. The pieces do therefore tend to read as more of an advert.

Another separate site of note, is www.bikeaccidentsolicitor.ie with it's focus not just on personal injury, but injuries from accidents involving any type of bike - be it motorbike or motor-less bike. One of the main things to stick out as unique, is their bold and highlighted statement that the solicitors behind the BikeAccidentSolicitor.ie website are all bikers themselves. Specifically - "We Are Solicitors And We Ride Bikes".

This comes up again in other media such as a piece about the firm's expansion which was announced when Ciaran Rogers took part in an interview on TV3's 'Ireland AM' programme. On the show Ciaran discusses the implications of some new Road Traffic Regulations for cyclists in Ireland.

This issue of similar domain names and addresses is not unique to this firm. It is even quite common for one firm to own SmithJonesLaw.com whilst a totally different firm owns SmithJonesLaw.co.uk - with both showing up in a search for Smith Jones Solicitors in Google. But in this instance, we felt it important to point out all the variants we'd come across and the information we had on each to help clarify which are actually related to this firm.

Having multiple websites is something I'm not keen on when it comes to individual law firms. However, on this occasion I'm willing to overlook my pet peeve and say that there is certainly enough promise, focus, and drive from this firm to warrant at least a phone call. They seem to go a step further than the usual "we're the best" promises made by nearly every law firm out there.

General Notes: We haven't looked in depth at their recruitment program so are unaware of any job vacancies available. If you do want to build a career with Rogers Solicitors, then it is best to visit their site and try to find the correct phone/email contact details set aside for such if they exist. (Emailing a CV to their reception looks lazy.) Due to the complexities of case funding and the constant government cuts, it is always best to ask about things such as Legal Aid up front. Lastly, each law firm should state a registration number with their respective Law Society and/or their SRA number. It's usually at the bottom of every page. - www.rogerssolicitors.ie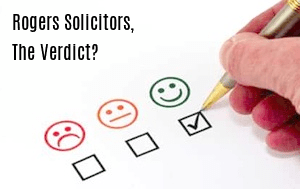 This
Rogers Solicitors
article is rated
0.0 /
5
based on 0 reviews. †
(Voting has been suspended for this page.)
Found this article helpful? Rate it:

---
Other Law Firms like Rogers Solicitors:
» RG Solicitors - It sounds like an easy request ...
» CBTRL - But still ...
» Three Graces Legal - We endeavour to minimise the use of packaging ...
» Balfour + Manson - The website is mostly about his other exploits ...
» RJ Gill Solicitors - There is nothing odd or shifty about this though ...
» Go Complain - You pay £29 ...
» LMD Law - From the LMDLaw site ...
» Nesbit Law Group LLP - With four offices long the length of the country ...
» Else Solicitors LLP - What usually happens is that we identify an area or case type that we need covered better ...
» Meresbrook Pollard Solicitors - Why they don't state it strongly on their website we're not sure ...
» Huneewoth Solicitors - Whilst using 'necessary expertise' to describe their abilities for crime and probate ...
» Davey Law - We're good at listening - and good at finding common sense ...
» Edward Hands & Lewis Solicitors - and yes ...
» Cubism Law Solicitors - /b Interestingly ...




Search for Solicitors
Near You:
Recommended Firms:
Firms with
Most Complaints:
This "Top 10 Worst" list is based on the Legal Ombudsman's complaints database, adjusted to factor in firm size and other relevant information:

» Mr Tariq Rehman of Kings Court Chambers
» Allan Rutherford Ltd
» Parabis Law LLP (aka Cogent Law or Plexus Law)
» Allerton Kaye
» DAS Law Limited
» Mr Wray of Kings Court Chambers
» Minster Law Ltd
» Handley Brown LLP
» Lyons Davidson Ltd
» Keppe & Partners

» Arc Property Solicitors Llp (has been closed)
» Abode Solicitors Limited (has been closed)
» Robert Meaton & Co (has been closed)
» Swinburne & Jackson Llp (has been closed)

The Legal Ombudsman's complaints database will tell you what type of cases were complained about and whether any compensation was ordered. View it here »
Related News:
5 Overlooked Ranking Factors
: This can lead to you missing out on joining the following Skadden Arps or other great firm that does not use recruiters. . The table above lists the top 20 businesses by amount of positions in Chambers and reveals the serio ...

36% Annual Rise In LawCare Cases. UK Law Firms Should Enforce A Support Policy
: These have developed within the past 10 years. There are approximately 6.000 paralegal law firms in the UK. They act for international customers and high net worth and represent both wives and husbands. . Indian attorneys a ...

What Is SEO? And Why can it be So Important For Local Businesses In Kent, Sussex,
: Search engines like google also rank content by the effectiveness of the site all together. When they can not locate you. or your solicitors online easily. then they only pay one of your competitors who've invested in enough onlin ...

Grade Standings In 2015 'Greatest Law Firms'
: Adepetun Caxton-Martins Agbor & Segun .ACAS) is popular in the Nigerian legal sector because of its energy practice. however to restrict the firm to energy work would be a misrepresentation. This event is a part of the Ar ...

>> SEO for Law Firms? <<