Else Solicitors LLP Info

Else Solicitors - Burton on Trent
Modern, dynamic and forward thinking solicitors who have the expertise you expect from a large, traditional law firm. Working with businesses and individuals across the Midlands and throughout the UK. Proactive, timely and practical advice with a personal, professional and jargon-free approach. Free parking and wheelchair accessible.

First Avenue, Centrum 100
,
Burton on Trent, England
,
DE14 2WE

http://www.elselaw.co.uk

info@elselaw.co.uk

01283 526200

Else Solicitors Law Firm in Burton on Trent
Else Solicitors is an anomaly for us. An aberration from the usual way in which a firm arrives on our panel. What usually happens is that we identify an area or case type that we need covered better, we research the best firms, we reach out to those firms, discuss their workings and our network, then come to an arrangement with one or two of them to join our panel for us to recommend them to people. The odd part on this occasion was the "research the best firms" part of that process.

Else Solicitors was actually recommended to us as a quality firm during a discussion with colleagues on LinkedIn. I checked out the firm's website briefly, but something made me discount it and try some of the other suggestions first. Not even a week later, someone else got in touch recommending Else's services. They specifically named Adam Gilbert at the firm, saying he was "a good guy who knows his stuff!"

I went back and had another look, but my gut again said they weren't for us. You see, after 17+ years of trawling through solicitor's websites, I'm now under the lofty impression that I'm some sort of savant when it comes to judging the merits of a firm. However, I'm not so arrogant as to ignore the recommendations of two respected colleagues. I dropped Adam a brief email.
The discussions that followed were to the point, emails were turned around quickly, there was a clear 'chain of command' for decisions, and those decisions were made - not umm'ed and ahh'ed about for weeks. Anyone who has ever had to work with solicitors will tell you that is rarity.

During those discussions I inevitably dove further into Else Solicitor's website and the relatively sparse information to be found about them on the web. I formed a new opinion that the only thing Else was bad at, was blowing their own trumpet. For example, there is a brief mention of them being 'Award Winning' on their main page but let's be honest - even cans of beans in the supermarket have Award Winning written on them.

We did some digging and found that the Awards won were actually quite niche. Not huge public PR affairs like the Personal Injury Awards. They had won Dental Law Firm of the Year as a result of votes by readers of Acquisition International, a monthly magazine specialising in corporate finance news. The firm was quoted as saying:

"We donít know who nominated us, so it was a pleasant surprise to be told that we had won. It could be clients, other professionals we work with or a combination of both who put us forward."

They've since been titled Midlands Leading Adviser to Family Businesses last year, and also won Commercial Conveyancing Firm of the Year at the Property Forum Awards. Far from the high profile, red-carpeted, and journalist-friendly events put on in other industries - these were awards that individual organisations decided to give out as a reward for good work.

Digging through the online profiles of each staff member also provided a wealth of background that simply was not apparent during my first glance.

The firm's founder, Chris Else, has over 25 years' experience as a commercial solicitor and has acted for large corporations, financial institutions and even breweries. He is currently on the board of trustees for the charity Home-Start East Staffordshire and attends business network groups to aid local businesses.

Adam Gilbert, the individual that had been specifically recommended to me, only joined Else Solicitors as Head of their Corporate & Commercial department in 2015. Previously he'd worked as a specialist in-house commercial solicitor, as well as for two other top UK law firms - Harvey Ingram (now Shakespeares) and Shoosmiths. He has experience in handling business mergers and acquisitions, disposals, corporate re-organisations, management buyouts, partnership agreements and more. The numbers provided are quite staggering. Advising and assisting with a £2 billion capital reduction for a subsidiary of a FTSE 100 client, a £4 billion group re-organisation, a £7million debt equity swap for a company hours away from insolvency, and so on. We also discovered during our search that Adam was head-hunted to join Else Law. It doesn't say that on the firm's website, but I think it should as it shows a desire to get the right staff. Head hunting is an expensive and tricky business.

This may make Else sound like a law firm that only the rich and international businesses may apply for help from. Maybe that is why they avoid bragging about everything? There is no indication that they will not help even the smallest business with a basic dispute. They handle commercial property, intellectual property, construction & engineering, debt recovery, dispute resolution, hr advice, insolvency & business recovery, mediation and more. They cover atypical case titles such as sports & entertainment law, media rights, and sponsorship deals. They also have a large non-commerical side with wills & probate, employment law advice, and general civil litigation.

Is it okay to use a typically commercial law firm for personal issues? Absolutely. Because their usual MO is to take on clients and keep them for many years. Their whole general approach to clients will be quite different to firms that rarely expect to see a client ever again. To quote their main page, they aim to build:

"Long-standing relationships with clients across a wide range of business sectors."

Now do you see what I mean? At first glance I'd taken a dislike to the layout of the site. I'd assumed that the lack of boastful language was an indication of having nothing to boast about too. I'd also assumed that the lack of information about the firm on the web was due to them not really doing much of note. Not only was none of that true, but my initial assumption that the firm simply didn't know how to promote themselves was also turned on it's head when I realised that if they did actually boast about their accomplishments - they might actually put off small businesses and individuals from using them.

What is it they say about 'assuming'?

Maybe you won't be so quick to judge as we were. Perhaps you've got a keener eye and will notice the numerous PDF downloads available from the site providing more in-depth information and advice on things such as Debt Recovery, Intellectual Property, Employment, and Lasting Powers of Attorney? Perhaps you'll be curious enough to click the link to a range of information videos the firm has created and uploaded to YouTube? We hope you do.

I will make a note about navigation, though. The firm is called Else Solicitors, but the official website address is www.elselaw.co.uk not www.elsesolicitors.co.uk, however the latter does currently redirect you to the correct place. www.elsesolicitors.com also redirects you, but www.elselaw.com does not. We therefore advise you to bookmark the correct site once you are on it to avoid possible errors or type-in mistakes down the line. We also recommend viewing the site on your mobile as the layout and internal link structure seems to be much clearer and easier to follow when stripped down.

We haven't looked in depth at their recruitment program so are unaware of any job vacancies available. If you do want to build a career with Else Solicitors LLP, then it is best to contact them using the phone, email, or website details given above. Due to the complexities of case funding, it is always best to ask about things such as Legal Aid in conversation too. Each firm should state a registration number with their respective Law Society, as well as their SRA number where applicable. Ideally, you should visit the website and look for any specific phone number or email address to contact the right department. - www.elselaw.co.uk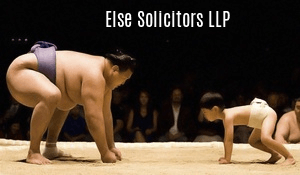 This
Else Solicitors LLP
article is rated
4.6
/
5
based on
26
reviews. †
Rate it:

---
Other Law Firms like Else Solicitors LLP:
» Meresbrook Pollard Ltd - We couldn't find any information on why they are called Meresbrook Pollard ...
» Anupamah Huneewoth Solicitors - Whilst a firm may call itself Super Clear Law and have superclearlaw ...
» Davey Law - We cannot stress enough the importance of using a firm that states expertise and experience in such cases by name ...
» Michael Jefferies Injury Lawyers @ Jefferies Solicitors Ltd - A recent article in a href="http ...
» Julia Brown Solicitor @ Family Legal Solicitors - They can also advise and assist on all family issues ...
» Marcus Andreen Commercial Law - However ...
» Austen-Jones Solicitors Ltd - 'No win no fee' is not the same thing as '100% compensation' ...
» Joanna Connolly Solicitor Advocates - Make sure to ask and discuss in depth how and when the solicitor taking your case expects to get paid ...
» Shaw Gibbs Business Insolvency LLP - They have over 30 years' experience of advising businesses and individuals through voluntary arrangements ...
» Parkview Solicitors & Higher Court Advocates - These are mostly civil matters ranging from injury claims to breaches of contract ...
» Brearleys Solicitors Brighouse - looks like an attempt at a modern mobile phone design ...
» Hartley Bain Solicitors in Stratford, Greater London - Individual Immigration - for individuals whether moving for studies ...
» Hythe Solicitors Robson & Co, near Folkestone in Southern Kent - The same does not often apply to things such as motor offences ...




Search for Solicitors
Near You:
Recommended Firms:
Firms with
Most Complaints:
This "Top 10 Worst" list is based on the Legal Ombudsman's complaints database, adjusted to factor in firm size and other relevant information:

» Mr Tariq Rehman of Kings Court Chambers
» Allan Rutherford Ltd
» Parabis Law LLP (aka Cogent Law or Plexus Law)
» Allerton Kaye
» DAS Law Limited
» Mr Wray of Kings Court Chambers
» Minster Law Ltd
» Handley Brown LLP
» Lyons Davidson Ltd
» Keppe & Partners

» Arc Property Solicitors Llp (has been closed)
» Abode Solicitors Limited (has been closed)
» Robert Meaton & Co (has been closed)
» Swinburne & Jackson Llp (has been closed)

The Legal Ombudsman's complaints database will tell you what type of cases were complained about and whether any compensation was ordered. View it here »
Related News:
Law Firm Advertising
: US firms - a number of firms whose head offices are in the USA have bases .eg Sidley Austin and White & Case). Or you may use pro search to look for members of a particular certification scheme. . Based on the complexity of ...

East Lancs Solicitor Struck Off After GBP400k Fraud (From Lancashire Telegraph)
: Join over 25.000 of your peers and receive their weekly newsletter which features the top trends. expert news analysis to help keep you ahead of the curve. The customers of local solicitors regularly return to them for al ...

Small Patient Choice Next Health Overhaul Issue
: For print publications it is possible to call the business and ask them to send you a copy. Pick as many classes as apply to your own field of law. But finally. recall that great. high-quality content is the only thing wh ...

Generate Inbound Links To Your Law Firm Website
: The related on-line resource offers a short description of each and every firm. and permits the user to narrow law firms by specialty. city. and state. Moving forward. the lawyer directory has many upgrades and changes in progress ...

>> SEO for Law Firms? <<