Waterstone Solicitors Info

Waterstone Solicitors - London
A London based law firm covering a huge range of case types. Their aim is to ensure every client they represent is happy with the service provided. They promise to be clear, concise and jargon-free with a full assessment on the merits of your case. The contact details provided will put you directly in touch with Shah Jahir Ali, the senior partner at Waterstone Solicitors, who specialises in Immigration, Family Law and Islamic Wills.

171 Cannon Street Road
,
London, Greater London
,
E1 2LX

http://www.waterstonesolicitors.com

jahir@waterstonesolicitors.com

07817 035 999

Waterstone Solicitors in London
I know I repeat this a lot, but our aim here at 1to1Legal is to ensure people are not only aware of the different choices available to them - but to also point out a few options along the way. Most people have their own ideas about the type of solicitor they want on their case. For motor offences they may be looking for a "Mr Loophole". For family law they may prefer a female solicitor. For personal injury they may want a firm that promises fast turnaround. Either way, we like to have a range of different firms on our network just in case.

So why the information deja vu? Yes, Waterstone Solicitors is another very different firm that we've added to our panel. But I want to make sure that you consider the pros and cons of the various setups and approaches on offer. So that when I say something like 'they are a relatively new firm', you'll actually carry on reading rather than dismiss them in favour of 'Stalwart & Highstreet Solicitors, established in 1066 by a British bulldog singing Jerusalem' ... (too much?) ...

First the basics. According to their website, the firm covers a wide range of case types but with a focus on Immigration, Asylum, Human Rights, Family & Children legal matters, Landlord/Tenants Housing Disputes, Commercial Property, and Wills/Probate. The website is clearly laid out, mobile-friendly, plenty of information, and they even have social media profiles on Facebook, Twitter, and LinkedIn.

We always like to see staff profiles on law firm sites and Waterstones doesn't disappoint. Whilst there are currently no photos, there are good chunks of data on most of the solicitors. For example, the Senior Partner Shah Jahir Ali started his legal career back in 2004 and has worked for big names such as Nokia and Motorola. Another, Nazrul Islam, is described as a "passionate Human Rights Activist" who qualified from City University London in 2006 after already gaining legal experience in other countries. There's also Shah M Rahman who only qualified as a solicitor in 2012, but has several degrees and diplomas to his name with history of jobs and hobbies that are heavily helping and community based.

It may be tempting to dismiss much of the website's wording as cliché sales-talk, with sentences such as:


"We uphold a high standard of client care by paying great attention to each of our client's circumstances and acting in their best interest in order to attain a desired outcome."
sounding very much like the last dozen solicitor's sites I've seen today. However, it doesn't take much concentration to find some real truths between the lines. Take this statement for example:
"As a rapidly developing law firm, we appreciate the requirements and financial expectations of our clients and we strive to maintain that our clients receive the best level of legal advice and representation at a cost operative manner that suits them."
Yes, practically every single law firm will say something about providing the best service at a competitive price. But at the core here is the statement 'developing law firm'. Aside from the honesty of such an upfront statement regarding their new-ness - it is also true that an established firm with a huge core base and organic influx of clients does not have to ensure that every single client is 100% happy with both the cost and service they've been provided. A new firm certainly does. This is not speculation either. There are enough old people here at 1to1Legal to have required the aid of legal services on multiple occasions. I've used large, small, old, and new firms myself.
Remember though, that when we say 'new' firm we're talking 'relative'
amongst an industry where it's common for firms to state a 100+ year heritage (no matter how tenuous). Our experience on the site was not flawless though.
I wasn't a big fan of the testimonials which seemed almost identical in content with
"they are the best in east London"
,
"this is one of best law firm in east London"
,
"highly recommended law firm in the region"
, and
"one of the best Law firms in London"
not being the only source of repetition. On visiting a few third party review sites, the exact same reviews were repeated over and over again. Chances are this is just the work of an over-zealous staff member trying to build an online reputation for the firm. It looks a little false though.
On balance though, there is a lot to be said for the way they have set themselves up on line. Reading the staff profiles, they sound more like a proud parent than a typical CV. The firm also focuses on areas of law that are more emotionally rewarding than financially so. For example, they don't cover personal injuries which are often simple cases reaping huge payouts for very little work. They're certainly more lucrative than Wills and Immigration. Even the fact some of the firm's staff have been qualified as solicitors in the UK for less than a decade is tempered by the fact they were previously involved in legal work abroad - which can't hurt if you need an Immigration solicitor.
So as I said at the start, if this kind of wording on the site:
"We are a forward thinking law firm ... we are a strong-minded and talented team of legal professionals ... we enjoy a reputation for being tough but approachable ..."
doesn't convince you. Then dig a little deeper.
There's a fair bit of positivity going on between the lines.
As for navigation, www.waterstonesolicitors.com is what we've been given and www.waterstonesolicitors.co.uk has no current website displayed. We see the most common error as being www.waterstonessolicitors.com as it's very typical to put an 's' on the end of the firm's name in speech. But neither that web address or the www.waterstonessolicitors.co.uk version is even owned right now. To be sure, it's always advisable to bookmark a solicitor's site when you know you're on the correct one. Especially when it comes to property matters and money moving around.
General Notes: We haven't looked in depth at their recruitment program so are unaware of any job vacancies available. If you do want to build a career with Waterstone Solicitors, then it is best to visit their site and try to find the correct phone/email contact details set aside for such if they exist. (Emailing a CV to their reception looks lazy.) Due to the complexities of case funding and the constant government cuts, it is always best to ask about things such as Legal Aid up front. Lastly, each law firm should state a registration number with their respective Law Society and/or their SRA number. It's usually at the bottom of every page. -
www.waterstonesolicitors.com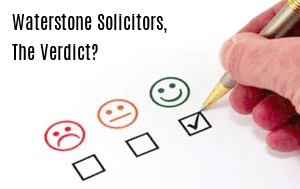 This
Waterstone Solicitors
article is rated
4.8 /
5
based on 32 reviews. †
Found this article helpful? Rate it:

---
Other Law Firms like Waterstone Solicitors:
» RHW Solicitors Ltd - She is past Vice President of Surrey Law Society and an advisor for the National Centre for Domestic Violence ...
» Savants Insolvency London - But Savants is one of those firms where any mention online seems to be as a result of their actual work ...
» Philip Nam White Collar Legal - We get dozens of communications a day about joining the 1to1Legal network from various firms handling a range of case types from all parts of the UK and ROI ...
» Furse Sanders Ltd - I look for the odd word or phrase here and there ...
» Starck Uberoi Solicitors - These personal focuses do not reflect the firm's much wider case range abilities ...
» Autologistic Solutions Limited - We plan on testing this out and writing a full review article later on ...
» Johnsons Solicitors Nottingham - The biggest problem we had on this occasion was that the information was not always clear ...
» RSR Law Croydon - For example ...
» CSL Law Croydon - There are similarly named firms at addresses such as www ...
» Hodge Jones and Allen Solicitors - His business premises include a basement bar and space ...
» CFG Law - Obviously we've linked to the main site www ...
» Michael Jefferies Injury Lawyers @ Jefferies Solicitors Ltd - They point out that things such as depreciating value of the car ...
» Julia Brown Solicitor @ Family Legal Solicitors - These interviews can take place face-to-face ...
» Marcus Andreen Commercial Law - Prior to that he worked in legal roles for Mobile Systems International Limited ...




Search for Solicitors
Near You:
Recommended Firms:
Firms with
Most Complaints:
This "Top 10 Worst" list is based on the Legal Ombudsman's complaints database, adjusted to factor in firm size and other relevant information:

» Mr Tariq Rehman of Kings Court Chambers
» Allan Rutherford Ltd
» Parabis Law LLP (aka Cogent Law or Plexus Law)
» Allerton Kaye
» DAS Law Limited
» Mr Wray of Kings Court Chambers
» Minster Law Ltd
» Handley Brown LLP
» Lyons Davidson Ltd
» Keppe & Partners

» Arc Property Solicitors Llp (has been closed)
» Abode Solicitors Limited (has been closed)
» Robert Meaton & Co (has been closed)
» Swinburne & Jackson Llp (has been closed)

The Legal Ombudsman's complaints database will tell you what type of cases were complained about and whether any compensation was ordered. View it here »
Related News:
If You're Looking For A Attorney Read These Hints
: Never hire just any attorney for working with personal injury cases because family member or your friend has given a reference. Find the appropriate lawyer to speak with. . Unless the attorney is on holiday. in trial or rec ...

ATO Bankrupts Zimbabwean Mining Executive
: The user can search by location and by area to locate a list .although you cannot make use of the directory to look up a specific solicitor. as you are able to in the Law Society Directory). You must have the ability and vast expe ...

Legal
: They are recognised as a forward-thinking commercial and private client law firm delivering incisive and creative guidance - both in the united kingdom and worldwide. These tools are an excellent start to ensuring your site isn't ...

Edwards Reactivates Law License, Speaking At Occasion
: Lord Advocates LLP is an East London immigration law firm near Upton Park station. To offer insight into where top law firms tend to recruit. U.S. News asked hiring partners to rate the schools based on a 5-point scale. with 5 bei ...

>> SEO for Law Firms? <<