Waterstone Solicitors Info

Waterstone Solicitors - London
A London based law firm covering a huge range of case types. Their aim is to ensure every client they represent is happy with the service provided. They promise to be clear, concise and jargon-free with a full assessment on the merits of your case. The contact details provided will put you directly in touch with Shah Jahir Ali, the senior partner at Waterstone Solicitors, who specialises in Immigration, Family Law and Islamic Wills.

171 Cannon Street Road
,
London, Greater London
,
E1 2LX

http://www.waterstonesolicitors.com

jahir@waterstonesolicitors.com

07817 035 999

Waterstone Solicitors in London
I know I repeat this a lot, but our aim here at 1to1Legal is to ensure people are not only aware of the different choices available to them - but to also point out a few options along the way. Most people have their own ideas about the type of solicitor they want on their case. For motor offences they may be looking for a "Mr Loophole". For family law they may prefer a female solicitor. For personal injury they may want a firm that promises fast turnaround. Either way, we like to have a range of different firms on our network just in case.

So why the information deja vu? Yes, Waterstone Solicitors is another very different firm that we've added to our panel. But I want to make sure that you consider the pros and cons of the various setups and approaches on offer. So that when I say something like 'they are a relatively new firm', you'll actually carry on reading rather than dismiss them in favour of 'Stalwart & Highstreet Solicitors, established in 1066 by a British bulldog singing Jerusalem' ... (too much?) ...

First the basics. According to their website, the firm covers a wide range of case types but with a focus on Immigration, Asylum, Human Rights, Family & Children legal matters, Landlord/Tenants Housing Disputes, Commercial Property, and Wills/Probate. The website is clearly laid out, mobile-friendly, plenty of information, and they even have social media profiles on Facebook, Twitter, and LinkedIn.

We always like to see staff profiles on law firm sites and Waterstones doesn't disappoint. Whilst there are currently no photos, there are good chunks of data on most of the solicitors. For example, the Senior Partner Shah Jahir Ali started his legal career back in 2004 and has worked for big names such as Nokia and Motorola. Another, Nazrul Islam, is described as a "passionate Human Rights Activist" who qualified from City University London in 2006 after already gaining legal experience in other countries. There's also Shah M Rahman who only qualified as a solicitor in 2012, but has several degrees and diplomas to his name with history of jobs and hobbies that are heavily helping and community based.

It may be tempting to dismiss much of the website's wording as cliché sales-talk, with sentences such as:


"We uphold a high standard of client care by paying great attention to each of our client's circumstances and acting in their best interest in order to attain a desired outcome."
sounding very much like the last dozen solicitor's sites I've seen today. However, it doesn't take much concentration to find some real truths between the lines. Take this statement for example:
"As a rapidly developing law firm, we appreciate the requirements and financial expectations of our clients and we strive to maintain that our clients receive the best level of legal advice and representation at a cost operative manner that suits them."
Yes, practically every single law firm will say something about providing the best service at a competitive price. But at the core here is the statement 'developing law firm'. Aside from the honesty of such an upfront statement regarding their new-ness - it is also true that an established firm with a huge core base and organic influx of clients does not have to ensure that every single client is 100% happy with both the cost and service they've been provided. A new firm certainly does. This is not speculation either. There are enough old people here at 1to1Legal to have required the aid of legal services on multiple occasions. I've used large, small, old, and new firms myself.
Remember though, that when we say 'new' firm we're talking 'relative'
amongst an industry where it's common for firms to state a 100+ year heritage (no matter how tenuous). Our experience on the site was not flawless though.
I wasn't a big fan of the testimonials which seemed almost identical in content with
"they are the best in east London"
,
"this is one of best law firm in east London"
,
"highly recommended law firm in the region"
, and
"one of the best Law firms in London"
not being the only source of repetition. On visiting a few third party review sites, the exact same reviews were repeated over and over again. Chances are this is just the work of an over-zealous staff member trying to build an online reputation for the firm. It looks a little false though.
On balance though, there is a lot to be said for the way they have set themselves up on line. Reading the staff profiles, they sound more like a proud parent than a typical CV. The firm also focuses on areas of law that are more emotionally rewarding than financially so. For example, they don't cover personal injuries which are often simple cases reaping huge payouts for very little work. They're certainly more lucrative than Wills and Immigration. Even the fact some of the firm's staff have been qualified as solicitors in the UK for less than a decade is tempered by the fact they were previously involved in legal work abroad - which can't hurt if you need an Immigration solicitor.
So as I said at the start, if this kind of wording on the site:
"We are a forward thinking law firm ... we are a strong-minded and talented team of legal professionals ... we enjoy a reputation for being tough but approachable ..."
doesn't convince you. Then dig a little deeper.
There's a fair bit of positivity going on between the lines.
As for navigation, www.waterstonesolicitors.com is what we've been given and www.waterstonesolicitors.co.uk has no current website displayed. We see the most common error as being www.waterstonessolicitors.com as it's very typical to put an 's' on the end of the firm's name in speech. But neither that web address or the www.waterstonessolicitors.co.uk version is even owned right now. To be sure, it's always advisable to bookmark a solicitor's site when you know you're on the correct one. Especially when it comes to property matters and money moving around.
General Notes: We haven't looked in depth at their recruitment program so are unaware of any job vacancies available. For a career with Waterstone Solicitors it's best to visit their website, check opening hours, and try to find the correct phone/email contact details set aside for such. (Emailing a CV to reception looks lazy.) If money is an issue, it's always best to ask about options such as Legal Aid up front. Each law firm's Law Society and/or SRA number should be on their site. It's usually at the bottom of each page. -
www.waterstonesolicitors.com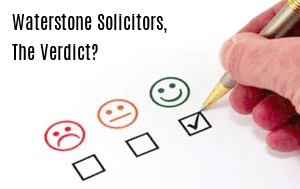 This
Waterstone Solicitors
article is rated
4.5 /
5
based on 27 reviews. †
Found this article helpful? Rate it:

---
Other Law Firms like Waterstone Solicitors:
» RHW Solicitors Ltd - Especially as the firm handles property sales and there has been increasing news coverage of the scam artists pretending to be property solicitors ...
» Savants Insolvency London - Our licensed Insolvency Practitioner is highly experienced in implementing formal insolvency procedures ...
» Philip Nam White Collar Legal - site's owner is a private businessman ...
» Furse Sanders Ltd - That's partly why we don't tend to wear suits but smart casual clothing ...
» Starck Uberoi Solicitors - Certainly if you search the web there's a plethora of reviews available ...
» Autologistic Solutions Limited - Even if you're at a stage in your claim where only the injuries are left to sort ...
» Johnsons Solicitors Nottingham - The first paragraph of the firm's website states ...
» RSR Law Croydon - Then in the next it was "First Aid ...
» CSL Law Croydon - Our clients are treated with a high degree of professionalism and a large proportion of our work is repeat business or through recommendation from existing clients ...
» Hodge Jones and Allen Solicitors - The downsides of constantly changing staff and leadership can be easily seen in how our government is run ...
» CFG Law - Whilst taking out what is essentially a 'loan' at the start of your case might sound daunting ...
» Leech and Co Solicitors - Otherwise ...
» Acumen Law Ltd - Have Acumen Business Law found a happy medium between the two ...
» Briffa Intellectual Property Solicitors - We're always looking to get specialists on board ...




Search for Solicitors
Near You:
Recommended Firms:
Firms with
Most Complaints:
This "Top 10 Worst" list is based on the Legal Ombudsman's complaints database, adjusted to factor in firm size and other relevant information:

» Mr Tariq Rehman of Kings Court Chambers
» Allan Rutherford Ltd
» Parabis Law LLP (aka Cogent Law or Plexus Law)
» Allerton Kaye
» DAS Law Limited
» Mr Wray of Kings Court Chambers
» Minster Law Ltd
» Handley Brown LLP
» Lyons Davidson Ltd
» Keppe & Partners

» Arc Property Solicitors Llp (has been closed)
» Abode Solicitors Limited (has been closed)
» Robert Meaton & Co (has been closed)
» Swinburne & Jackson Llp (has been closed)

The Legal Ombudsman's complaints database will tell you what type of cases were complained about and whether any compensation was ordered. View it here »
Related News:
If You're Looking For A Attorney Read These Hints
: The truth is. there are not many at all. and pretty much ALL of them go to children who come from the Top 15 law schools. Every tool in Marketing is more important than ever. although they am likely telling people here how to suck ...

ATO Bankrupts Zimbabwean Mining Executive
: Take the time to get counsel. find a solicitor. and learn as much about the processes you'll be able to. if in the midst of a relationship breakup are you. He is an Accredited Member and qualified as a solicitor in 2000. ...

Legal
: Kevin finally chose to approach simply over 200 firms. Their services might include evaluating present applications. developing a software from the ground up. and assisting in the collection of a PR seller for the busines ...

Edwards Reactivates Law License, Speaking At Occasion
: But also remember this is an opportunity not just for the company to evaluate your skills through genuine work assignments--it is your opportunity to determine what it is truly like to work there and to try any hypothesis you migh ...

>> SEO for Law Firms? <<