Claims Funding UK Info
Please note: we are no longer partnered with Claims Funding UK so the information below may be out of date. You may try the stated web addresses manually elsewhere, but if you click on the link you will remain on this website. This page will be removed/replaced in due course. You can use the solicitor search function on the right to find an alternate firm in your area. Thank you.

Claims Funding UK - Services
Do you need funding for legal, medical and living expenses whilst your case runs? Litigation funding gives you an advance on the expected compensation until your case settles, with nothing to pay unless your case is successful. Check the Claims Funding UK website for more details plus relevant terms and conditions.

N/A
,
N/A

http://https:

N/A

N/A

ClaimsFunding UK & Ireland | Litigation Funding & Settlement Loans
Litigation funding has been around for a while now, but it doesn't seem to have caught on as much as "no win, no fee" and "100% compensation" when people are looking for a solicitor to handle their case. Obviously having a solicitor that won't charge you fees whether your case wins or loses is ideal. But running cases is expensive, and law firms won't put their hand in their pocket for every expense you might have.

If you need help with extra legal, medical, and living expense bills as a result of your injuries - then you can actually take out a loan to cover them. This loan is then paid back out of your compensation settlement. You can usually claim back the loan's interest rates as part of your expenses as well, and justifiably so.

Claims Funding UK offer funding from £500 to £250,000+ with no repayments due unless the claim is successful and you've been paid your compensation. Their website states that applications are approved within days, and has full page flow-chart breakdown of the application process. To summarise:

You can either phone up or fill in the application online. An advisor will review your case and tell you within minutes if it meets the criteria for funding. They'll then need to request various documents from your solicitor to verify you and your situation. This usually takes around 48 hours, at the end of which they will tell you if funding has been approved. Both you and your solicitor will then have to sign agreeing to the terms. Then after the legally mandated 'cooling off' period, the funds will be transferred.

With many treatments and procedures under the NHS having huge waiting lists, or sometimes not being covered at all in certain areas - having the option of private healthcare would be great, if you can afford it. If your injuries have put you out of work as well, affording the treatment is even less likely resulting in a Catch 22. You need to work to pay for treatment, but you can't work until you've had treatment. Claims funding can be used for surgery, consultants fees, treatments, therapy, helpful medical equipment, rehabilitation and more.


"Our service for clients is not only to get the maximum compensation settlement but also and more importantly the best medical and rehabilitation in the fastest possible time frame."
These loans don't have to just be used to cover costs that you would normally claim back though. As we've said, many people end up out of work because of injuries. Being able to use your compensation money early to cover your mortgage, credit cards, and even daily living expenses until you're back up on your feet can only help with a faster recovery and less stress during the case. A windfall in six month's time might not be nearly as useful to you as having the money up front.
"We ... work with our clients to ensure that they have the financial resources required to see out their claim without the need for settling early for a reduced settlement."
This sentence on the Claims Funding website is an incredibly strong argument for seeking litigation funding. If you are struggling financially, you are more likely to accept the typically lower offer third parties make to end the case early.
We read through the FAQs, and a few points stood out to us. First, that you cannot apply for case funding if you plan on representing yourself - you have to use a solicitor. Second, there is no legal requirement for your solicitor to tell the third party that you have taken out a settlement loan - but he will have to inform them should you want to claim back the fees/interest charges on the loan. Third, as it's a loan, there will be a credit check to verify various details - but there is no mention of them requiring an specific score to be approved.
This next one I want to put in their own words:
"Q: When can you call in the loan?"
"A: The loan is repaid once the claim is concluded. In special circumstances however the repayment of the loan and interest charges can be demanded immediately if you act in any way which might undermine the good faith of this relationship. An example of this would be disengaging with your solicitor and/or failing to assist your solicitor with the progression of your case."
This does not mean you can never switch solicitors. You just have to have a good reason and do it properly. There are further explanations and details of this on the site.
There are three main web addresses the firm uses. The UK site is at www.claimsfundinguk.co.uk, with the Irish version at www.claimsfunding.ie, and www.claimsfunding.co hosting the American version. Obviously, with generic term web addresses, a lot of the variants will have been bought up. For example, www.claimsfunding.co.uk and www.claimsfunding.com, neither of which currently have anything showing on them. Just to be sure you end up back at the right place though, make sure to bookmark the site after following any of the links on our page.
General Notes: We haven't looked in depth at their recruitment program so are unaware of any job vacancies available. If you do want to build a career with Claims Funding UK, then it is best to visit their site and try to find the correct phone/email contact details set aside for such if they exist. (Emailing a CV to their reception looks lazy.) Due to the complexities of case funding and the constant government cuts, it is always best to ask about things such as Legal Aid up front. Lastly, each law firm should state a registration number with their respective Law Society and/or their SRA number. It's usually at the bottom of every page. -
www.claimsfundinguk.co.uk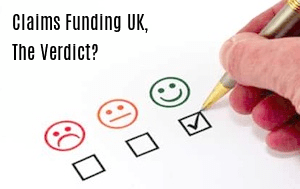 This
Claims Funding UK
article is rated
0.0 /
5
based on 0 reviews. †
(Voting has been suspended for this page.)
Found this article helpful? Rate it:

---
Other Law Firms like Claims Funding UK:
» www.ashmanssolicitors.com - So that even when you're left in the dark about the details of the a href="http ...
» www.kctrust.co.uk - Another paragraph that caught our eye ...
» www.blainboland.co.uk - But with all the new opportunities out there ...
» www.amnestysolicitors.com - Two other accolades that stand out would be her being listed in the Top 100 SuperLawyers 'Rising Stars' from 2013-2015 ...
» www.kingsviewchambers.com - " /div Catherine Stock is a barrister and qualified nurse gaining a First Class Honours BSc degree in Medical Law and a BA in Health & Nursing ...
» www.countrywide-conveyancing.co.uk - it's going to be short! Yes ...
» www.waterstonesolicitors.com - I wasn't a big fan of the testimonials which seemed almost identical in content with "they are the best in east London" /i ...
» www.rhw.co.uk - She is past Vice President of Surrey Law Society and an advisor for the National Centre for Domestic Violence ...
» www.savants.co.uk - It's therefore advisable to bookmark any pages you want to return to /b and preferably copy/paste any email addresses they give you rather than free-hand typing them - just incase you miss an 's' or forget the correct tld in a rushed moment ...
» www.whitecollarlegalandadmin.com - All the firms we accept onto the panel are firms we think will enhance the network and provide extra useful choices for people seeking legal help ...
» www.fursesanders.co.uk - I look for the odd word or phrase here and there ...
» www.starckuberoi.co.uk - But more importantly our interest was piqued by the fact it had been so long without such a demand ...
» www.autologistic.co.uk - Or were ...
» www.thejohnsonpartnership.co.uk - not all written on the same day by seven people who have never written any reviews about any other firms) ...




Search for Solicitors
Near You:
Recommended Firms:
Firms with
Most Complaints:
This "Top 10 Worst" list is based on the Legal Ombudsman's complaints database, adjusted to factor in firm size and other relevant information:

» Mr Tariq Rehman of Kings Court Chambers
» Allan Rutherford Ltd
» Parabis Law LLP (aka Cogent Law or Plexus Law)
» Allerton Kaye
» DAS Law Limited
» Mr Wray of Kings Court Chambers
» Minster Law Ltd
» Handley Brown LLP
» Lyons Davidson Ltd
» Keppe & Partners

» Arc Property Solicitors Llp (has been closed)
» Abode Solicitors Limited (has been closed)
» Robert Meaton & Co (has been closed)
» Swinburne & Jackson Llp (has been closed)

The Legal Ombudsman's complaints database will tell you what type of cases were complained about and whether any compensation was ordered. View it here »
Related News:
Edwards Reactivates Law License, Speaking At Occasion
: Lord Advocates LLP is an East London immigration law firm near Upton Park station. The answers join your clients and your intangible services. U.S. One simple method to add some weight to your own Search Engine Optimizati ...

Consumers More Inclined To Use Internet To Locate A Solicitor Than Ask A Friend Or
: Both conversion course graduates and law graduates then have to study the legal practice course .LPC). which is a vocational course designed to allow you to employ law to dilemmas that are practical. Answering to the typi ...

A Case
: They've warned against relying exclusively upon the record of solicitors in the Law Society site. Primarily. trainees who are driven will care more about their work and also the firm's success. . So that you can be a fantas ...

For House Sales And Purchases
: It is possible to usually find them online. The family law firm that is established might be outstanding for probate and conveyancing. but out of it is depth in cases of medical negligence. Your solicitor must always act on your i ...

>> SEO for Law Firms? <<