Blain Boland & Co Info
Please note: we are no longer partnered with Blain Boland & Co so the information below may be out of date. You may try the stated web addresses manually elsewhere, but if you click on the link you will remain on this website. This page will be removed/replaced in due course. You can use the solicitor search function on the right to find an alternate firm in your area. Thank you.

Blain Boland & Co. - Willaston
An independent law firm establish in 1979. They are committed to providing clear, practical advice. Matters dealt with include all types of property, conveyancing, wills, probate and employment. Free parking by the office. They are professional and knowledgeable whilst still friendly and approachable. A refreshing change from more traditional law firms.

N/A
,
Willaston, England
,
CH64 1RA

http://www.blainboland.co.uk

N/A

N/A

Blain Boland & Co. - Ellesmere Port
Matters dealt with include all types of property, conveyancing, wills, probate and employment. Free parking by the office. They are professional and knowledgeable whilst still friendly and approachable. A refreshing change from more traditional law firms.

N/A
,
Ellesmere Port, England
,
CH65 0AB

http://www.blainboland.co.uk

N/A

N/A

Blain Boland & Co. - Middlewich
They offer a wide range of legal services to both businesses and individuals. Matters dealt with include all types of property, conveyancing, wills, probate and employment. Free parking by the office. They are professional and knowledgeable whilst still friendly and approachable. They aim to provide a personal, effective solution to all of your day-to-day legal advice needs. A refreshing change from more traditional law firms.

N/A
,
Middlewich, England
,
CW10 9AB

http://www.blainboland.co.uk

N/A

N/A

Blain Boland & Co Solicitors in Ellesmere Port, Willaston and Middlewich
When it comes to law firms, describing one as "established" or "new" is a far more subjective game of semantics than you might think. A ten-year-old hairdressing or photography studio on the high street could easily be considered a long established business. However, a fresh brand of bank or building society might be called "new" despite having existed for much longer.

With all the changes to legal aid and concepts such as Alternative Business Structures (ABS) coming into play, the way we perceive law firms is going to keep changing in the coming years. Yes, there are still a lot of law firms with more than a century of history behind them. But with all the new opportunities out there, the new rules, the ease of the internet, etc. we're seeing a lot more seasoned solicitors leave larger firms to set up on their own. Each individual solicitor may have a few decades of experience under their belt, but the name they choose for their firm will be unfamiliar and not easy to research.

Blain Boland & Co is actually a trading name of Blain Boland and Thomas Ltd. If you search for information on the firm you'll see the current Limited name was created as recently as 2008. However, the firm's website states the brand goes right back to 1979 where it apparently took over from another local firm - G E Taylor & Sons. You can check the history and specialities of the actual people within the various offices on the Law Society's website. The practice is registered with the Liverpool Law Society as well, but there doesn't seem to be any extra information provided there.

Despite stating an age of almost 40 years for their firm, the language around the site does not use that as a focus. In fact, quite the opposite. They consider themselves "a refreshing change from more traditional law firms" and have engaged (however mildly) with things such as social media.

This may have a lot to do with their current owners. From the available records, it seems that Mr Michael Blain and Mr David Boland actually left the firm a few years ago. Not long after, BB&Co were bought over by Jill Shields and Justin Culver of Wheelock Chambers who were only just celebrating the second anniversary of their own employment law and conveyancing firm's existence. In a statement at the time, Jill said:


"After working for law firms in the region for many years, I wanted to offer a fresh approach ... we've solved many legal headaches by providing just an hour of advice, at a fixed rate of £75."
The firm has the usual promotional language you would expect dotted around the main pages. They use words such as "comprehensive" and "diverse", as well as promising to provide clients with:
"... clear, practical, advice combined with an efficient and courteous service ..."
However what they don't make enough fuss about
- and you might even miss it - is the wealth of basic, concise, and targeted articles they've created for both personal and business matters. Everything from "What To Do When Someone Dies" and "Lasting Power of Attorney" to "What to do at the End of Your Lease" and "Equality and Diversity Best Practices". Even just the handful of paragraphs in the "
Civil Partnerships
" article could save people a considerable amount of time and therefore expense when it comes to kicking off a case. It's core information, in layman's terms, without superfluous examples or padding.
They're good.
Moreover, they also handle some case types that we rarely see targeted elsewhere such as Ecclesiastical & Canon Law. This means they can provide expert and experienced advice to Churches on legal matters whether they are an established denomination or independent. This includes Church property, trusts, and constitutions as well as the important Charity Law aspects of running a church.
Many firms seem to focus on the intangible parts of providing a service when writing their sales pitches. As always, the devil is in the details and
most of the bits that impressed us about this firm were in the background
.
A quick note on navigation though. The www.blainboland.co.uk address is the one we link to. The main variant of www.blainboland.com is owned but is currently blank, and neither of the typical hyphenated variants (www.blain-boland.co.uk or www.blain-boland.com) show anything either. There will never be a www.blainboland&co.co.uk created because web addresses can't have special characters such as "&". On top of that, it seems that the firm have signed up to be part of the National Solicitors network which provides them with a custom page on the network's website - www.nationalsolicitors.com/blain-boland/ - which also comes with an extra Twitter feed using @BlainBolandNS instead of the firm's official one @BlainBolandSols.
When you search for something like
"blain boland solicitors"
, you'll also see the owner's other website www.wheelockchambers.com pop up in the results. They have a few extra niche sites such as www.weareconveyancers.com and www.weareemploymentlawyers.com too, but none of them link to to the site you really need which is the one we link to. So once you're on it, we highly recommend bookmarking it to make sure you come back to the right place each time.
General Notes: We haven't looked in depth at their recruitment program so are unaware of any job vacancies available. If you do want to build a career with Blain Boland & Co, then it is best to visit their site and try to find the correct phone/email contact details set aside for such if they exist. (Emailing a CV to their reception looks lazy.) Due to the complexities of case funding and the constant government cuts, it is always best to ask about things such as Legal Aid up front. Lastly, each law firm should state a registration number with their respective Law Society and/or their SRA number. It's usually at the bottom of every page. -
www.blainboland.co.uk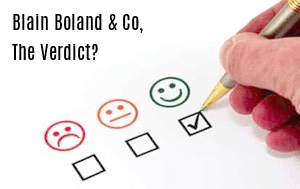 This
Blain Boland & Co
article is rated
0.0 /
5
based on 0 reviews. †
(Voting has been suspended for this page.)
Found this article helpful? Rate it:

---
Other Law Firms like Blain Boland & Co:
» www.amnestysolicitors.com - First ...
» www.kingsviewchambers.com - A barrister has to be qualified to do so ...
» www.cwconveyancing.co.uk - We link to www ...
» www.waterstonesolicitors.com - Reading the staff profiles ...
» www.rhw.co.uk - There is a wider range available and links to pages about each case type and sub-category are available on the website ...
» www.savants.co.uk - You may see several sites related to a firm called Savant Ltd who specialise in IT setups to help businesses ...
» www.whitecollarlegalandadmin.com - We found a good selection on CheckaProfessional ...
» www.fursesanders.co.uk - None of the hyphenated or usual 'furse and sanders' sort of errors are owned by anyone else either at the moment ...
» www.starckuberoi.co.uk - There are already plenty of public reviews already ...
» www.autologistic.co.uk - Anyway ...
» www.thejohnsonpartnership.co.uk - However ...
» www.rsrlaw.co.uk - getting a copy of a will) ...
» www.csllaw.co.uk - Of course CSL cover a niche case range of Divorce ...
» www.hja.net - All above 4☆ ...




Search for Solicitors
Near You:
Recommended Firms:
Firms with
Most Complaints:
This "Top 10 Worst" list is based on the Legal Ombudsman's complaints database, adjusted to factor in firm size and other relevant information:

» Mr Tariq Rehman of Kings Court Chambers
» Allan Rutherford Ltd
» Parabis Law LLP (aka Cogent Law or Plexus Law)
» Allerton Kaye
» DAS Law Limited
» Mr Wray of Kings Court Chambers
» Minster Law Ltd
» Handley Brown LLP
» Lyons Davidson Ltd
» Keppe & Partners

» Arc Property Solicitors Llp (has been closed)
» Abode Solicitors Limited (has been closed)
» Robert Meaton & Co (has been closed)
» Swinburne & Jackson Llp (has been closed)

The Legal Ombudsman's complaints database will tell you what type of cases were complained about and whether any compensation was ordered. View it here »
Related News:
The area of Law Continues To Take Hits In This Down Market
: Significantly. most UK companies actively promote a knowledge sharing culture. These Big4 are hired Indian lawyers and counseling on whole gamut of Indian transaction laws. LexisNexis Canada's recent whitepaper. The Future of Law ...

UK Prosecutor Reviews Alleged Connection Between Jailed Ibori And UK Assistance
: UPGRADE. 08 11 12. Mr. The next column - 'Amount of decisions' - reveals the absolute quantity of ombudsman's decisions that were made about each lawyer or law firm. Borrowers may only find out their solicitor is just not ...

Australian Law & Attorney Directory
: The companies could be chosen region and by specialisation. . Was the most effective rate they really could locate by a mile. The lowest priced solicitor is unlikely to be the most efficient. whilst high prices don ...

What's a No Win No Fee Solicitor?
: Their strong search technology means you can find peace anytime you need. The Law Society has been granted Special Consultative Status to the United Nations. which gives it extent to collaborate with member states on issu ...

>> SEO for Law Firms? <<