White Collar Legal Info

White Collar Legal - Liverpool
Aiming to provide affordable and accessible legal services to all, White Collar Legal are one of few firms approved by Trading Standards to provide legal services in Wirral. They provide assistance across a wide range of civil matters.

Suite 111, 1 Old Hall Street
,
Liverpool, England
,
L3 9HF

http://www.whitecollarlegalandadmin.com

philip@whitecollarlegalandadmin.com

0151 230 8931

White Collar Legal & Admin Ltd in Wirral, Merseyside
Okay, so the following is not my most objective or impartial review of a firm. But after 20 years working in the legal industry and thousands of articles, I think my opinions should be allowed to leak out from time to time. Having also just passed the big four-oh, I'll probably be leaking more and more in the coming years anyway ...

We get dozens of communications a day about joining the 1to1Legal network from various firms handling a range of case types from all parts of the UK and ROI. Every single one is checked out to see if they will be a good fit. But we're not a directory.

All the firms we accept onto the panel are firms we think will enhance the network and provide extra useful choices for people seeking legal help.

What first appealed to us with White Collar Legal is probably the same thing everyone who visits their website goes "... oh!" about:


"White Collar Qualified Paralegal & Administration Services. Providing Accessible and Affordable Legal Services to All. Typical Rate: £44 per hour, inc VAT."
It's written in large print, right at the top of the main page. It's the kind of thing that, when you see it, you suddenly want a law passed so that
every law firm has to post their average hourly rate
. Of course such rules usually don't work out as you'd expect - (e.g. APR on finance and sugar content in food). So what else can we compare instead?
Whilst flicking through various law sites, you may have noticed some asking you to follow their Twitter feed or 'Like' them on Facebook. Some firms definitely try too hard to be trendy whilst others almost regress, focusing on their 200+ year history and their founder Mr William Whittington-Smith-Smythe III.
White Collar Legal sit neatly in the middle.
They certainly have all the expected social profiles, but they are mentioned peripherally around the website.
The owner's profile isn't full of hobbies, favourite books, or pet's names either. That's not an exaggeration - there genuinely are a large amount of solicitor site profiles packed with personal information in an attempt to seem more approachable. White Collar director Philip Nam's profile states his more than a dozen years of legal and administrative experience in advocacy, consumer law, contracts, employment, legal costs and more. He has Specialist Paralegal Qualifications in Civil Litigation and Personal Injury, holding a general practising certificate as a Tier 4 Member of the
Professional Paralegal Register
. If you're a legal professional, the PPP site is worth a few minutes of your time.
"Philip also attends Court representing both Claimants and Defendants on average 53 times a year."
This is another standout sentence to bear in mind, as
there are varying types of experience
when it comes to law. I've done a fair bit of court work myself on both sides and behind the scenes. Enough to have seen plenty of veteran-but-desk-bound solicitors run rings round by younger legal professionals who practically live in the court room.
Let's be honest, when it comes to legal services - White Collar Ltd being established in 2013 sounds like the paint hasn't even dried yet when compared to the
"established in 1801"
dates some solicitors come up with. Is there enough history and information out there to make an informed decision?
Certainly there are review sites, but try and avoid the un-managed ones that allow anyone with a grudge to take up the entire page with capital letters and exclamation marks. We found a good selection on
CheckaProfessional.com
where White Collar Legal has a 10/10 rating from 16 reviews going back to April 2015. We also found the firm listed on
BusinessApprovalRegister.com
which purports to be a list of companies approved by Trading Standards. (However the B.A.R. site's owner is a private businessman, the website is a Limited company, and there isn't much readily available information as to what being 'approved' actually means?) As White Collar themselves are also a Ltd company though, there is lots of public information available such as on the Companies House website.
The list of services offered is quite extensive considering, offering help with financial mis-selling, landlord/tenant disputes, personal injury, wills, etc. Then underneath the list it states:
"... with access to a nationwide network of solicitors and barristers, we can also refer your legal issue to the appropriate person should we be unable to do the work for you."
If it sounds like we're being overly positive
about what seems to be a very small, new firm with a limited range of legal access that may end up passing people on to a solicitor or barrister anyway - then take a look at it from another perspective. With an hourly rate that is almost 70% less than a typical solicitor, White Collar's setup and abilities should not be seen as "less than" a 100-staff legal practice. It's "more than" the Citizen's Advice Bureau. Way, way more.
The Citizen's Advice Bureau may be free, but it is awful. Most of the time you are 'helped' by someone who has just quit their job stacking shelves at Morrisons. Their new job is merely to show you how to look up information on the CAB's website. After one hour in a CAB office, White Collar (Legal and Admin) Ltd will suddenly seem like a godsend. Plus with the huge cuts in Legal Aid every year, we certainly hope that more setups like the one Philip Nam has created start appearing across the country to help mitigate the increasing shortfall in legal assistance.
General Notes: We haven't looked in depth at their recruitment program so are unaware of any job vacancies available. If you do want to build a career with White Collar Legal, then it is best to visit their site and try to find the correct phone/email contact details set aside for such if they exist. (Emailing a CV to their reception looks lazy.) Due to the complexities of case funding and the constant government cuts, it is always best to ask about things such as Legal Aid up front. Lastly, each law firm should state a registration number with their respective Law Society and/or their SRA number. It's usually at the bottom of every page. -
www.whitecollarlegalandadmin.com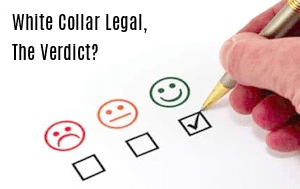 This
White Collar Legal
article is rated
4.6 /
5
based on 28 reviews. †
Found this article helpful? Rate it:

---
Other Law Firms like White Collar Legal:
» www.fursesanders.co.uk - They can handle Agriculture and Rural matters ...
» www.starckuberoi.co.uk - Certainly if you search the web there's a plethora of reviews available ...
» www.autologistic.co.uk - On social media you'll often see us talk about partnering with actual solicitors ...
» www.thejohnsonpartnership.co.uk - There was a group of architects ...
» www.rsrlaw.co.uk - We believe that raising awareness of the risks of exposure to carcinogens at work will help save lives ...
» www.csllaw.co.uk - In fact ...
» www.hja.net - His business premises include a basement bar and space ...
» www.cfglaw.co.uk - Whilst the section is labelled Case Studies ...
» www.jefferies-solicitors.com - They point out that things such as depreciating value of the car ...
» www.famlegal.co.uk - Where it is possible they always endeavour to help clients to resolve their issues away from court ...
» www.marcusandreen.com - As a commercial lawyer with more than 20 years' experience providing legal support to companies and individuals - his clients are mainly fast-growing ...
» www.lawincornwall.co.uk - They offer family law services such as divorce ...
» www.joannaconnollysolicitors.co.uk - For example ...
» www.shawgibbs.com - However ...




Search for Solicitors
Near You:
Recommended Firms:
Firms with
Most Complaints:
This "Top 10 Worst" list is based on the Legal Ombudsman's complaints database, adjusted to factor in firm size and other relevant information:

» Mr Tariq Rehman of Kings Court Chambers
» Allan Rutherford Ltd
» Parabis Law LLP (aka Cogent Law or Plexus Law)
» Allerton Kaye
» DAS Law Limited
» Mr Wray of Kings Court Chambers
» Minster Law Ltd
» Handley Brown LLP
» Lyons Davidson Ltd
» Keppe & Partners

» Arc Property Solicitors Llp (has been closed)
» Abode Solicitors Limited (has been closed)
» Robert Meaton & Co (has been closed)
» Swinburne & Jackson Llp (has been closed)

The Legal Ombudsman's complaints database will tell you what type of cases were complained about and whether any compensation was ordered. View it here »
Related News:
Why Are Not Posts On Law Firm Facebook Pages Getting Seen?
: Legal Authority was able to identify over 100 companies in New York with insurance coverage practices. The work they do on an ongoing basis in maintaining and compiling their law firm database provides a degree of focus t ...

Some Methods For Finding A Solicitor
: A local advice agency for example a law centre or Citizens Advice Bureau. should further be able to provide you with details of local legal advisers that are experienced in the correct section of law. The Call Centre will contact ...

Legal
: Be cautious of sites that permit you to add your lawyer profile. Concentrate on white hat strategies and keep the faith that those law firms who are still attempting to dupe Google with grey or blackApproaches is likely t ...

Edwards Reactivates Law License, Speaking At Occasion
: You see a smaller set of behaviour groups. when you assess the search behavior in the lawyer data set. Are you currently searching for the law firm standing that is perfect. Quite simply. not all plaintiffs' law firms are alike an ...

>> SEO for Law Firms? <<