Get Included. Get Referrals.
Our referral network is unique. The result of our 17+ years in legal services marketing. A complementary blend of the normal directory format, plus a map search facility, social outreach program, affiliate partnerships, and more - all with a focus on ROI ... i.e. producing convertible leads.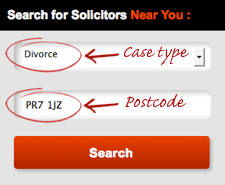 We achieve this by directing visitors on our site to use our custom search box, rather than simply browsing through a standard directory layout. They enter their postcode, but crucially they also enter the case type they are looking for help with.
That means your divorce firm isn't answering the phone to injured pedestrians, and your criminal law firm won't get inundated with commercial property questions.
Potential clients can choose to visit your website or contact you directly using the phone/email contact details we will display for you. We do not handle client details, sell them on or offer them other third party products/services. Furthermore, cities/areas are capped with a goal of 1 firm per 100,000 population**.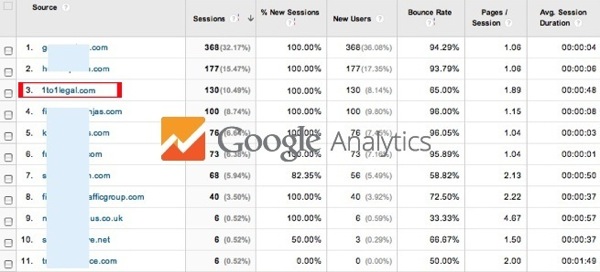 Unlike nearly every other 'law directory', we GUARANTEE that you'll receive traffic from your inclusion in our referral network. The above website received 130 visitors in August, from a listing priced at just £12 per month. How does that compare to your Yellow Pages ad? How does that compare to your pay-per-click marketing?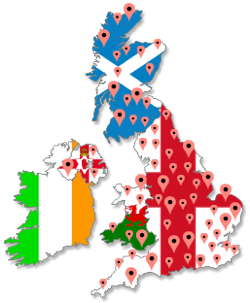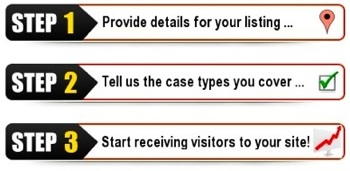 YOU COULD BE RECEIVING A NEW STREAM OF POTENTIAL CLIENTS IN JUST ONE HOUR!
The sign up process should take less than a minute. You will then receive an email asking for some further details of your firm. Once we get that back, we'll get you added ASAP.***
Ready to proceed? First we have to check that there is space available in our database for your firm. As previously mentioned, the database is capped to only allow 1 law firm per 100,000 population.**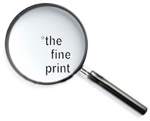 * Snapshot from our network analytics section taken on 18th February 2015.
** The goal of 1 law firm per 100,000 is not always 100% achieved, especially in very rural areas of the country where there may not even be 100,000 people within a reasonable driving distance of the law office in question. Contact us with your postcode and website address to receive more detailed information on being listed in your area.
*** Discounts available for firms located in low populations and firms with more than one office location.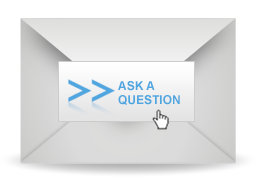 What are People Saying?
"... looks good to me. I'm happy ..." - ClaimsFunding UK

"we wish to renew and look forward to receiving your invoice" - Adam D

"I have been delighted with the services ... your marketing/promotion strategy definitely serves its purpose" - C.E. Ltd

"not one to make you rich, but that is not what gets me out of bed in the morning" - SBS


*random snippets copy/pasted from comments made by third parties on the web such as twitter, facebook, linkedin, etc.
Recommended Firms:
Security Staff & Investigations:
Executive Security Professionals and Executive Security Investigations are an Essex based security service and specialist investigation firm. They are able handle everything from Door Supervision to Event Security, Close Protection Detail and even Matrimonial Surveillance services.

They adhere to strict codes and regulations and make sure their clients are fully aware of their obligations under the law. Available nationwide 24 hours a day , 365 days a year - even at short notice.
Visit their website, or call 0800 999 1982.



» www.execsecuritypro.co.uk »
Tips For Hiring A Law Firm Marketing Adviser
: Importantly learn how much they cost. . Contact them for additional information. Having a regulatory record is just not. in itself. evidence a solicitor has been dishonest or committed misconduct ; some regulatory ...

The Best Way To Catch New Clients? Locate Their Associations And Get Actively Involved
: Good2bSocial's assignment is really to assist attorneys. law firms. and professional service companies that are related leverage and to understand the power of social and content marketing technologies. B) Click on your l ...

Inquire 4 Questions To Learn If Law School Is The Proper Move
: You might want to engage a digital marketing agency to help you. Some companies that are smaller accept applications only a year ahead of time. when they will have a much better idea of the personnel requirements. Even wh ...

Law Firm Advertising
: or D.C. Typical niche areas contain IT and telecommunications. family law. intellectual property and transport. The United used to work in a law firm attorneys and that i received these e-mails on a weekly basis. Their em ...

>> Try our Lead Generation Services <<


Solicitor Lead Referrals: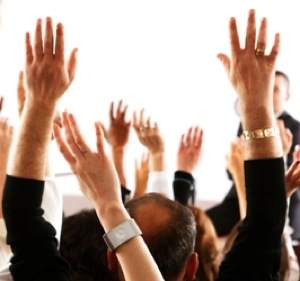 Browse our
Law Firm Directory: