Third Party Litigation Funding in the UK from ClaimsFunding
Year after year the government cuts the budgets and services available to help people with legal issues and costs. The big fuss made about "no win, no fee" was it "levelling the playing field" again, "giving everyone access to justice", and similar catch-phrases you've doubtlessly seen and heard on TV, Radio, Podcasts, YouTube, newspapers, magazines, etc. etc. There's another one too - "100% compensation". Unfortunately, not enough fuss is made about the difference between what each of these sales pitches mean.

To clarify: no win, no fee means that if your case loses you won't have to pay your own solicitor's legal fees. It does not mean that there will never be any fees ever. If you win, you may be charged a fee. Sometimes as much as 30% of your compensation. "100% compensation" + "no win, no fee" together, however, means that there are no fees if you lose and no fees if you win. So try and get a solicitor offering you both.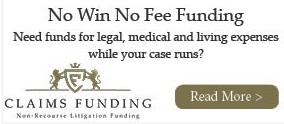 Your solicitor will pay for things such as medical reports, expert witnesses, and so on. Things that he/she feels are necessary to building a strong case. Things which they feel certain the other side will agree (or be ordered) to pay for if the case wins. If the case loses then the solicitor either takes a loss on those expenses, or claims them back on an insurance policy - often called After the Event Insurance (ATE).
Things the solicitor is very unlikely to fund are your travel expenses for case related appointments or any ongoing medical expenses whilst waiting for compensation. Some solicitors on our panel do have case funding options already available. But most don't. You are generally expected to pay for incidentals, keep receipts, and simply claim everything back in the settlement.
"What if I can't afford things I need?"
We don't usually have a long dictionary-definition intro to these articles. But on this occasion it felt important to clarify the basics before explaining why we've decided to promote an independent claims funding firm on our network. The firm in question goes by the name
Claims Funding
. You may think that's an unimaginative company moniker - but imagine the benefits of having a company whose name is the same as the service they provide when it comes to legal bills and claiming recompense during the settlement.
They are a new firm. There isn't much background information on the company's About Us page. There isn't much information about them generally on the web either. However, our experience with law firms has shown that new firms have more to prove, and no-one reads the About Us pages anyway. So as negatives go, those two are quite small. We could always cup-half-full about the lack of general information by saying no news is generally good news when it comes to financial institutions. But personally, I really do like to see something when I search a company's name. Some social media stuff, maybe an article, a third party blog post, even just a mention in a forum. A firm isn't really established in my opinion until people have started whinging about them. ;)
"If that's the case, why recommend them to people?"
Because it's important, and despite my personal personality flaws about enjoying information - 1to1Legal have always looked for the next good thing to promote. We jumped in offering people no win, no fee and ATE insurance right back in 1999. By 2004, we only worked with solicitors offering 100% compensation. In 2007, we dropped referral fees and tried to promote the idea to others. The industry failed to self regulate, and it was six years before the government stepped in and had the same idea. We've seen the huge potential for time/money savings with Direct Access to Barristers and now, we see claims funding and think ... yes. That needs to grow bigger.

Is there room for abuse? Always. We were on the front line when the abuse of the ATE insurance premium came crashing down. Firms had been charging up to £2000 for an insurance policy that usually cost around £200. All it took was one defendant saying "that's ridiculous" for a judge to agree and all of a sudden, thousands of claimants across the country were £1800 out of pocket and the two largest claim firms of the day (Claims Direct and The Accident Group) collapsed. For this to work, the interest rates have to be reasonable too - i.e. not in payday-loan territory.

That's the thing though. We've already had the huge blow-back from overpriced ATE insurance policies. We've already had the blow-back from ridiculous payday loans. You would hope, therefore, that any company moving into such a venture will not make the mistakes of the past.

"Is it risky?"

For you to get the funding, you have to be using a solicitor that thinks your case can win, and the claims funding firm has to believe it's going to get its money back as well. If both of them are wrong and your case loses, then you don't have to pay anything anyway. Claims Funding state that they only provide funding to firms that are registered with them. One would hope this meant the funding agency believed the solicitor to be good enough not to end up losing them money. If there are cliff edges and huge risks - they are not apparent yet.

"Why are you so excited about this product?"

Maybe we're weird. Our core staff have backgrounds in immigration, insurance, accident investigation, court reporting, the police, and even a retired barrister. Our firm has been running for nearly two decades, going through the changes not just reading about them. So when we see something that gives people choice, we want to shout about it. Just being able to pay for good medical care instead of stiff-upper-lipping it or walking-it-off can alter someone's entire life. Without getting into a debate on NHS waiting lists, a lot of people end up having their injuries exasperated or even developing new problems from waiting months just to get an evaluation appointment.

Someone in our own office was made to wait 5 months to see a specialist, then another 3 months for treatment. By which time the problem was too far gone and surgery rather than physio was the only option left. He now has a permanent limp and will likely be on painkillers for the rest of his life. Having the funds on hand to cover private physio straight away rather than waiting for the NHS to get to him, would have been an un-debate-able benefit.

Obviously you'll need to discuss with your solicitor and the relevant medical people what treatments are necessary and can be claimed back. Giving yourself a spa day because you're feeling a bit down about the accident will not count as 'necessary', for example.

"Are you being paid to say this?"

We do not receive a commission for sales. We do charge Claims Funding a fee to advertise on our site. But no, it is not nearly enough to buy our opinions. I genuinely believe what I've just said.



---
Whether you are a client looking for an advance on your litigation settlement, or a solicitor seeking a claims funding solution you can contact Claims Funding using:

Claims Funding UK
Hanover House
Hanover Street
Liverpool
L1 3DZ
0151 601 3477
info@claimsfunding.co
www.claimsfundinguk.co.uk
---

This article "
Third Party Litigation Funding in the UK from ClaimsFunding
" is rated
4.2
/ 5 based on
10
reviews. †
Rate it:

---
Other Guest Posts:
» Seven Good Reasons to Make A Will Now - /li li 5 ...
» Taylor Rose TTKW Fee Sharing - They now successfully process 25 ...
» Litigation Funding UK - "Is it risky ...
» Seven Good Reasons to Make A Will Now - /li li 7 ...
» Ventura Law Ltd - Often when people are searching for legal representation they search for specialists such as "employ ...
» www.pointonsolicitors.co.uk - We've written hundreds of review articles over the past 20 years and if you've already read some on ...
» AJLO Solicitors - Alexander JLO Solicitors is obviously a very popular firm /b amongst a huge population with plen ...
» Redwood Collections Ltd - Redwood Collections is a debt collection firm based in Croydon. On the 1to1Legal search function we ...
» www.lawcomm.co.uk - Usually when we write an article on a firm that handles conveyancing, people are often confused to s ...



Search for Solicitors
Near You:
Recommended Firms:
Costs Lawyers & Law Costs Draftsmen:
Athene Legal are modern, forward-thinking costs lawyers and law costs draftsmen. They offer services to law firms, insurers and legal entities nationwide bringing a wealth of knowledge and experience in both recovering and opposing costs.

They cover a wide range of practice areas including commercial litigation, civil liberties, personal injury, and clinical negligence. They handle the costs of claims from County Court to Supreme Court proceedings
Visit their website, or call 020 7459 4843.



» www.athenelegal.co.uk »
Law Firm Marketing Blog:
Why Are Not Posts On Law Firm Facebook Pages Getting Seen?
: Nowadays. the Internet causes it to be possible for every single company to eventually become more visible to prospective customers either in a local geographical sense. nationally. or across the world - literally. Every one of th ...

How A Tacoma Bankruptcy Law Business Can Help Stop Creditors Law Offices
: Most of the customers are personal injury law firms so perhaps it is only consumers seeking for personal injury law firms vs solicitor more frequently. There is no point choosing a company a huge selection of miles away i ...

The Best Way To Catch New Clients? Locate Their Associations And Get Actively Involved
: Google+ Local pulls when determining which law firms to rank in the local pack results from organized citation data sites. In this case. the voicemail left by the seemingly inebriated SEO "specialist" has done nothing but ...

>> Solicitors SEO? <<
Browse our
Law Firm Directory:

In the US?